Decentralized finance has been at the hearing for the last couple of years. Because of innovations that DeFi space adds yearly, more people want to learn about it and know how to use all the charms it provides. For new users, decentralized finance might be too complicated and hard to understand. In this article, I will go through possible ways of learning everything about DeFi and guiding yourself in the amazing decentralized world of crypto.
Ways to learn in DeFi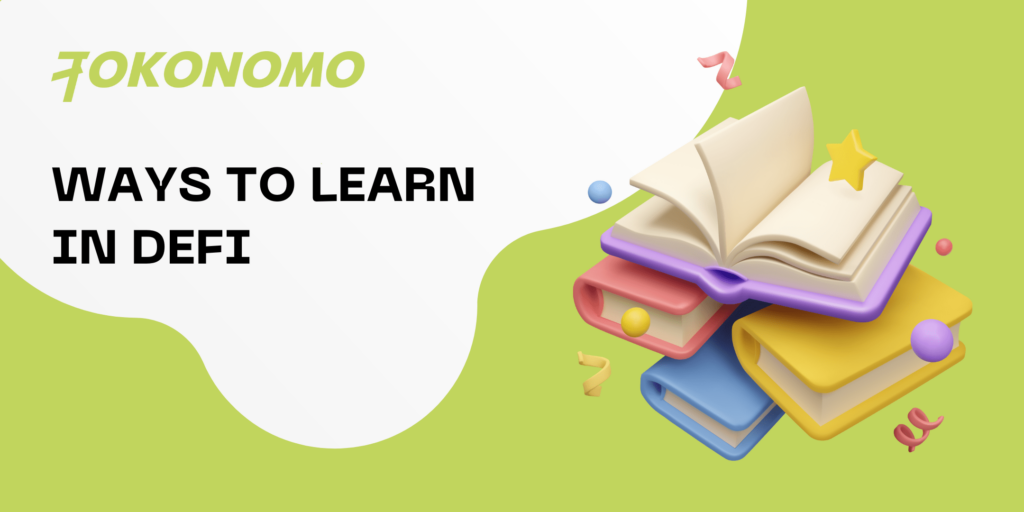 1. Practice
Let's start with the most basic method – practice.
The best method to learn something new is to try it. You can't understand how it really works if you haven't tried it. In DeFi, you can pick out a small sum of your portfolio and try everything that decentralized finance provides. Sending funds from one wallet to another, connecting your wallet to different platforms, using different functions that DeFi provides, etc. By doing that, you can understand the basics of DeFi sense. No practice = no experience. Keep this in mind.
2. Academies
If during practice you come across unknown to you terms or financial concepts, you should try learning from DeFi academies. There are a lot of them available for free on the internet like Tokonomo Academy. They will help you to understand the basics and to learn new unknown terms. Basically, a good theoretical basis.
3. Crypto influencers
If you are already familiar with the basics of DeFi and would like to keep up with the news, I would recommend you follow different accounts on social media. Twitter, Telegram, Discord, etc. There are a lot of popular and verified accounts that specialize in DeFi. I don't want to shill any individual channels, but finding them should not be hard.
4. Alpha groups
Another good way to learn everything about decentralized finances is to find a group of fellow thinkers. There are a lot of "alpha" groups (both private and public) where people help each other and provide useful information. They will help you stay updated with everything happening in the crypto world and answer any questions you might have. One of the main advantages that these groups provide is the possibility of building connections with people who have been in crypto for a while. These people have been through a lot of ups and downs, bull and bear markets, rug pulls, and moonshots, and definitely made a lot of mistakes in the past that they can warn you about. Having an access to their experience will greatly enhance your overall skills and will help you don't make mistakes that these people did.
Conclusion

Learning in the DeFi/Crypto space might be hard at the beginning, but fortunately, it's possible with the amazing resources available everywhere on the internet. Learn, innovate, contribute and you gonna make it!