On Bitfinex, BTC derivatives were briefly pushed above $56K due to a sudden Bitcoin "flash rally"
During a period of low liquidity, Bitcoin's (BTC) price on Bitfinex's perpetual swap market briefly surged above $56,000 on Tuesday.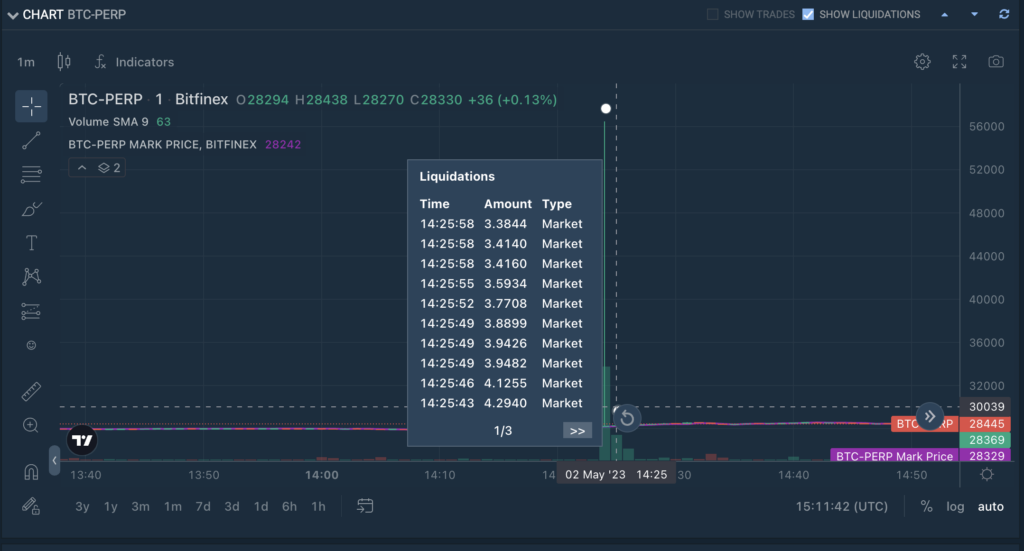 Despite trading volume on the BTC-PERP market peaking at 322 BTC ($9.1 million) within two minutes, it only accounted for a quarter of the daily volume.
Several traders experienced liquidation of their positions during the "flash rally."
This occurred simultaneously with Bitcoin surging 2.5% on other spot markets due to concerns about the U.S. banking system, triggered by the sharp decline in stock prices of Pacwest (PACW) and Western Alliance (WAL).
The BTC-PERP pair currently has a market depth of 10% of 110 BTC, as an order to purchase 110 BTC could move the price by 10% on that specific market.
Paolo Ardoino, Bitfinex's chief technology officer, tweeted that there was low liquidity at that time, but the matching engine correctly handled all orders.
Amidst the meme coin craze among crypto traders, the market cap of PEPE Token has risen to $500 million
The market capitalization of PEPE, a token inspired by the "Pepe the frog" meme, has reached $502 million after a 2,100% increase since its issuance last month.
According to Etherscan, PEPE has approximately 79,000 holders, with a few wallets holding more than $5 million of the tokens, excluding centralized exchanges.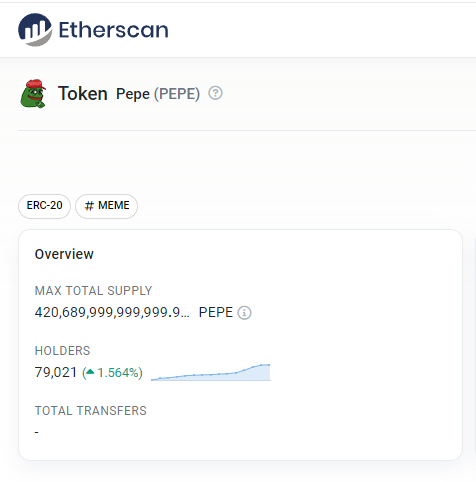 The token's value soared by 350% over the weekend, and BitMEX announced perpetual swaps for the token with leverage up to 50 times.
Although the hype around the meme token is growing, some early investors have been selling their holdings, leading to decreased liquidity and 40% slippage for one trader who sold $2 million worth of the token.

Another trader sold $678,000 worth of PEPE, leading to a 50% decline in its price.
The token's price movement resembles dogecoin, which experienced extreme price swings when demand and liquidity were low. When derivative markets go live, PEPE may face selling pressure as traders attempt to profit from a historically volatile trend.
Revolut, a digital bank, has started providing cryptocurrency investment options in Brazil
Revolut, a digital bank that already provides cryptocurrency investment services throughout Europe, has expanded its business to Brazil.
The bank aims to tap into the increasing demand for crypto assets in Latin America, where around 10 million people use cryptocurrencies, according to Revolut's announcement.
Revolut's mission is to offer accessible and efficient financial products that enable customers to use their money effectively in a borderless economy.
The bank plans to start with global accounts and crypto investments in Brazil, with more services to follow.
With 29 million customers worldwide, Revolut seeks to establish a presence in Brazil, where Nubank, a digital bank with approximately 70 million customers, dominates the market. Nubank introduced crypto trading in June 2020 and gained one million users within a month.
Coinbase has launched a cryptocurrency derivatives exchange in an offshore location
Coinbase, a US-based cryptocurrency trading firm, is expanding internationally by opening a derivatives exchange in Bermuda amidst regulatory challenges in the U.S.
The new platform, called Coinbase International Exchange, currently allows traders to speculate on the value of bitcoin and ether through perpetual futures contracts with up to five times leverage, with all trades settling in the stablecoin USDC.
Coinbase stated in a blog post that trading has already begun.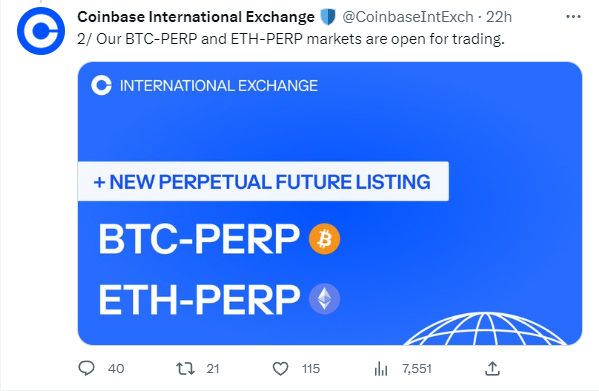 This move marks Coinbase's recent venture into derivative trading, which is a popular segment of the global cryptocurrency market but has limited scope in the U.S. due to strict oversight.
Coinbase emphasized that it is still committed to the U.S., but it believes that other countries are increasingly adopting crypto-friendly regulatory frameworks to establish themselves as cryptocurrency hubs.
This trend is driving other U.S.-based crypto firms to explore offshore opportunities. Gemini, another crypto exchange, announced on the same day that it is launching an international crypto derivatives exchange.
In the second season of the NFT collection Goblintown, priority will be given to the "worst" traders during the minting process
Truth Labs, the Web3 firm responsible for the popular NFT collection Goblintown, is preparing to launch Season 2, which will be even more unusual than the first.
Big Inc, a sequel to the Goblintown collection with 15,000 units, has not yet announced the date or time of its mint.
According to a spokesperson from Truth Labs, the collection is seeking out the "worst traders in NFT land" and giving priority to collectors based on their "rekt activity," or poor trades in the NFT market.
Traders who are in the top 1,000 of the worst can mint their Big Inc acceptance letter for free within 24 hours.
Holders of other Truth Labs NFT collections, such as Goblintown, Grumpl, and Illuminati, will also have special privileges to mint their Big Inc tokens for free.
Goblintown Season 2, which is based on the fictional corporation Big Inc in Goblintown, where animals have been brainwashed to become its employees, features profile pictures with animal heads wearing "super serious" expressions.
Interested collectors can apply to mint, and Truth Labs will analyze wallet data to determine the quality of traders' NFT transactions.
The collection also plans to capitalize on the popularity of the meme coin PEPE, allowing traders to receive a discount on the token mint if they pay with it.
Mint participants can pay 0.096 ETH, or about $175, but those who pay with PEPE will receive a 50% discount, with NFTs dynamically priced at 0.048 ETH, or about $88.
Process Grey, co-founder, and artist at Truth Labs stated that Goblintown Season 2 aims to celebrate the culture and community that has created Web3, whether times are bullish or bearish.