Amid concerns from investors regarding interest rates, Bitcoin has fallen to $27.3K while Ether is approaching $1.8K
Bitcoin (BTC) remained in a phase of consolidation below $28,000 on Monday, according to CoinGecko. The cryptocurrency's market capitalization being the largest, it was trading around $27,350, down 0.4% over the past 24 hours.
Last week, BTC saw a dip below $28,000, following a week-long period above $30,000. The value of Bitcoin dropped to almost $27,100 at one point.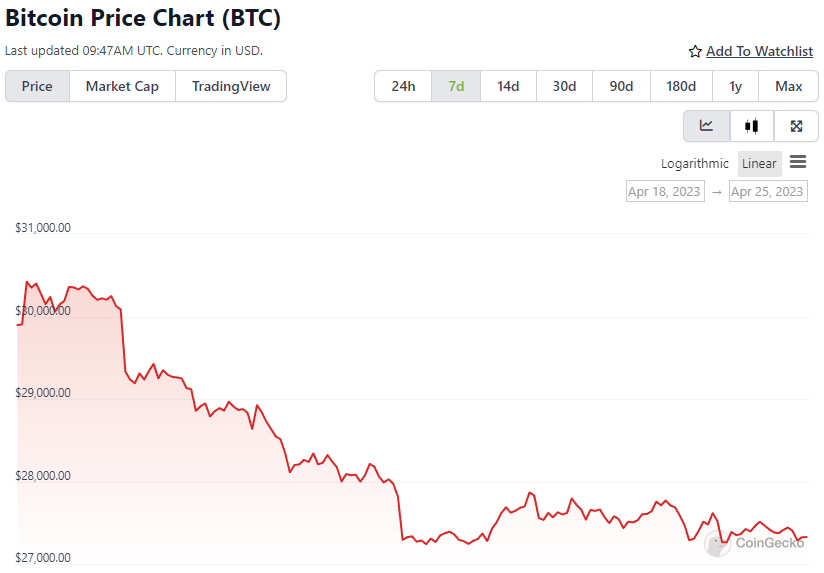 Investors are keeping a close watch on the Federal Open Market Committee (FOMC) meeting scheduled for next week, as the CME FedWatch Tool shows a 91% chance of a 25 basis point (bps) hike in interest rates by the U.S. central bank.
Meanwhile, Ether (ETH), the second-largest cryptocurrency by market value, saw a decline of 0.8% from Sunday, trading at around $1,833 on Monday.
BTC and ETH have experienced a decrease of 7% and 11%, respectively, over the past week, as investors consider various uncertainties in the industry and macroeconomics, including a decline in U.S. dollar liquidity.
The Wrapped Bitcoin token has been launched on the Cardano testnet
The cBTC token, which represents bitcoin on the Cardano blockchain, has been launched on the Cardano testnet by the project's developers to entice bitcoin holders to the emerging DeFi network of Cardano.
Through the anetaBTC protocol, users can now create cBTC tokens and utilize them to fund, trade, or provide liquidity on Cardano's test network.
These wrapped tokens facilitate cross-chain value transfers, which is not possible due to the lack of interoperability between various blockchains, and enable users to access diverse DeFi protocols without needing the native tokens.
In recent times, several DeFi upgrades have contributed to the rise of such protocols on Cardano, with the total value locked on Cardano-based platforms increasing from under $50 million to over $150 million since the beginning of 2023.
Thetanuts Finance, a DeFi protocol, has secured $17 million to fund its expansion and forge new partnerships
Thetanuts Finance, a decentralized finance platform, has successfully completed a funding round of $17 million, with Polychain Capital, Hyperchain Capital, and Magnus Capital leading the investment.
The funding will be used to form partnerships with layer 1 and layer 2 networks, liquidity providers, market makers, blockchain foundations, and exchanges.
This news arrives as the crypto industry slowly recuperates from the crypto winter, which previously hindered the investment environment.
During this period, providers of blockchain infrastructure have demonstrated resilience, and DeFi projects have become more popular than centralized products, especially after the collapse of FTX last autumn.
Thetanuts Finance offers structured products for cryptocurrencies that cater to liquidity providers, options traders, market makers, and decentralized autonomous organizations.
Users can earn yields on leading cryptocurrencies, provide liquidity, and execute short and long options strategies.
Thetanuts Finance will shortly launch an altcoin options market that allows investors to trade options strategies involving altcoins using decentralized options vaults.
This initiative will broaden the scope of these strategies and make them available to more investors.
Zimbabwe plans to launch a digital currency backed by gold
According to a report by the Sunday Mail, Zimbabwe's central bank, the Reserve Bank of Zimbabwe (RBZ), aims to launch a digital currency backed by gold as a legal tender in a bid to stabilize the local currency, the Zim dollar.
This digital currency will be in the form of electronic money supported by the country's gold reserves, which will be held by the central bank.
The RBZ's intention is to enable Zim dollar holders to exchange their currency for gold-backed digital tokens, which will serve as a hedge against the local currency's volatility.
As per Investing.com, the Zim dollar's value has depreciated significantly against the US dollar, with 1 USD now worth approximately 1,000 Zim dollars, compared to 150 Zim dollars a year ago.
Zimbabwe operates with both the Zim dollar and the US dollar.
The RBZ announced its plan to launch a central bank digital currency last August, and several other African nations, including Nigeria, have been exploring CBDCs. Nigeria launched its eNaira in October 2021.
The sales of NFTs on Polygon, Cardano, and Solana are on the rise while the sales of Ethereum NFTs are declining
Although Ethereum remains the most commonly used blockchain for creating NFTs, other layer 1 and layer 2 networks have experienced modest increases in NFT sales.
CryptoSlam data shows that Cardano briefly surpassed Ethereum scaling platform Polygon as the fourth-most popular blockchain by NFT sales volume on Monday, although it had since fallen back to the sixth spot behind BNB and Polygon.


Nonetheless, Cardano's sales had increased by 86% over the previous 24 hours, driven by interest in two projects: Goofy Gophers and Spacebudz.
Solana has also seen growing sales volume, unique buyers, and sellers over the past seven days, with Mad Lads being a significant contributor to the $9.9 million in sales on April 22.
Overall, Solana's sales volume increased by 129% over the past week.
In the meantime, Polygon has experienced an increase in sales volume, with NFT collection Y00ts driving much of the movement on OpenSea and Magic Eden since it migrated from Solana.
This rise in NFT sales on alternative blockchains coincides with a decline in Ethereum NFT sales, with sales volume down by 12% over the past seven days, and the number of unique buyers and sellers on Ethereum also dropping.