The Federal Reserve raises interest rates by 0.25 percentages
The U.S. Federal Reserve has increased its benchmark fed funds rate by 0.25 percentage points, bringing it to a target range of 4.75% to 5%, in accordance with the expectations of most market participants.
On Wednesday afternoon, along with the rate hike, the Fed's Federal Open Market Committee (FOMC) released a statement acknowledging the recent troubles in the banking system, stating that they are likely to result in tighter credit conditions for households and businesses, and could weigh on economic activity, employment, and inflation.
The latest policy statement no longer includes the language "ongoing increases," which had been notable in previous months, indicating that any possible future rate hikes will be dependent on data.
Just two weeks ago, traders were evenly split on whether the Fed would increase rates by 25 or 50 basis points. Since then, due to struggles within the banking system, including the failure of several lenders, traders were unsure whether the Fed would raise rates by 25 basis points or maintain the status quo, with some even expecting a surprise rate cut from the central bank.
The U.S. SEC files a lawsuit against Justin Sun, founder of Tron, for charges related to securities and market manipulation
On Wednesday, the U.S. Securities and Exchange Commission (SEC) filed a lawsuit against Justin Sun, alleging that he engaged in the sale and distribution of unregistered securities, as well as fraud and market manipulation.
The SEC claimed that Sun, along with the Tron Foundation, the BitTorrent Foundation, and BitTorrent (now known as Rainberry), sold tokens such as Tron (TRX) and BitTorrent (BTT), which the regulator classified as unregistered crypto asset securities.
The defendants were accused of fraudulent manipulation of TRX's secondary market through an extensive wash trading scheme. As a result of the SEC charges, Tron's TRX token fell by 13%, while other tokens linked to Sun, including Huobi (HT), Just (JST), and Sun Token (SUN), dropped by over 5% on Wednesday.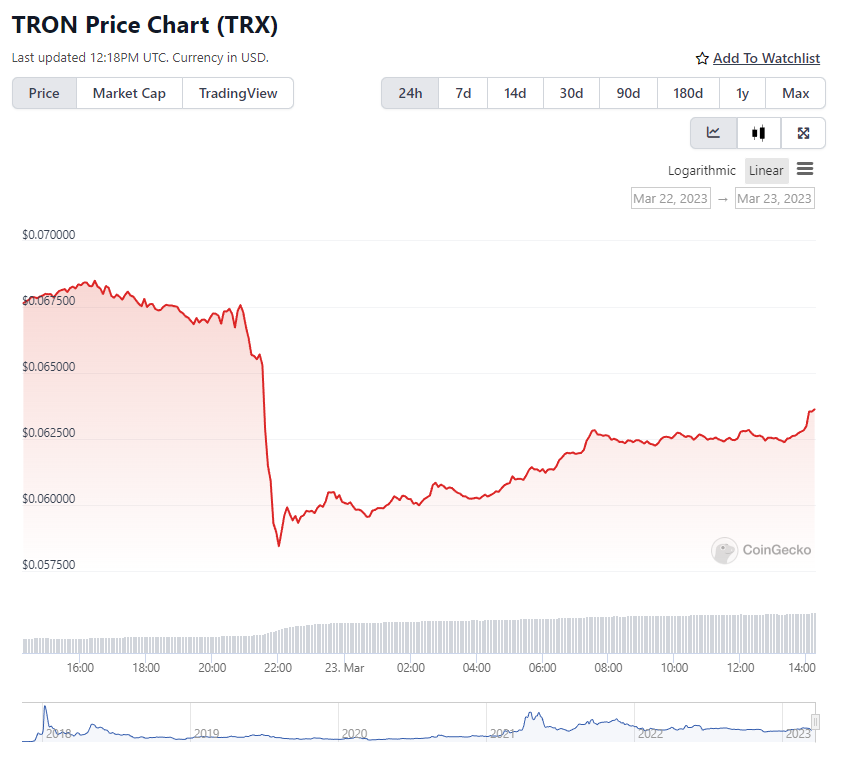 The SEC also sued several celebrities, including Lindsay Lohan, Jake Paul, Soulja Boy, Lil Yachty, Ne-Yo, Akon, and Michele Mason, for promoting TRX and BTT without disclosing their paid endorsements. Most of these celebrities settled the charges.
The SEC alleged that Sun provided a significant supply of TRX for this scheme and sold TRX into the secondary market, generating $31 million in proceeds from illegal and unregistered offers and sales of the token.
SEC Chair Gary Gensler stated that this case demonstrates the potential risks that crypto investors may encounter with unregistered securities.
Users of Telegram can now transfer USDT through their chats
Telegram users can now send each other USDT, the world's largest stablecoin by market cap, directly through chats on the messaging app.
This functionality has been added to the @wallet bot on Telegram, which also enables the buying and selling of other cryptocurrencies.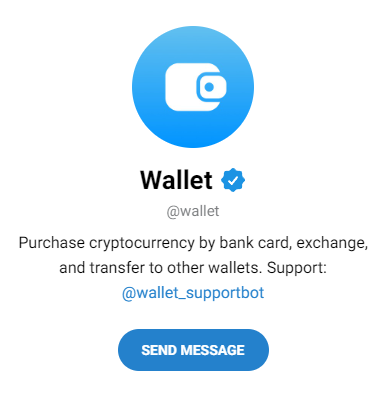 The integration of crypto payments into messaging apps like Telegram is a positive development for mainstream adoption, as it makes sending cryptocurrency as easy as sending a text or a photo.
Kraken has announced the suspension of ACH deposits and withdrawals in response to the shutdown of Silvergate
Kraken, a cryptocurrency exchange, has announced the suspension of automated clearinghouse (ACH) deposits and withdrawals starting from March 27, 2023.
This decision comes after the failure of Silvergate Bank, which was Kraken's banking partner for ACH transactions.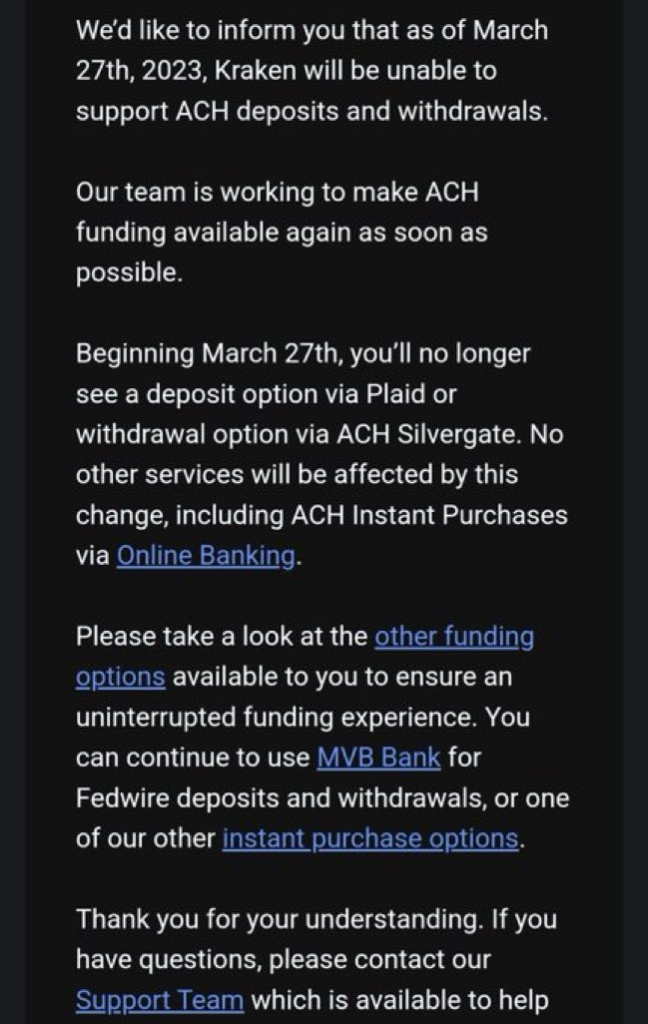 Kraken is actively looking for a new banking partner to provide ACH funding options to its clients. In the meantime, no other services will be affected by this change.
Kraken intends to resume ACH deposits and withdrawals as soon as it finds alternative funding providers, and will communicate details with clients as soon as possible.
Coinbase has halted staking rewards for Algorand
On Wednesday, Coinbase informed its clients that it will no longer provide Algorand token (ALGO) rewards from March 29.
However, the token will remain available for trading.
A Coinbase spokesperson stated that the company regularly evaluates its rewards offerings and has decided to discontinue ALGO rewards for now.
In late March, Coinbase disclosed that the SEC had issued a Wells Notice, stating that the company may be operating its exchange and staking services in violation of securities laws. This move comes amid increased scrutiny of Coinbase's staking service after Kraken agreed to pay $30 million in fines and close its U.S. staking-as-a-service operation in February.
SEC Chairman Gary Gensler has warned that other platforms should "take note" of the Kraken case, indicating the possibility of further investigations into U.S.-based crypto exchanges.