Crypto enthusiasts have transferred millions of dollars to the zkSync blockchain with the expectation of receiving a token airdrop
Crypto users are transferring millions of dollars to the zkSync network in anticipation of a potential token airdrop.
Airdrops are a popular method for crypto projects to distribute free tokens to their communities in order to encourage adoption.
zkSync is a zero-knowledge (ZK) roll-up protocol that utilizes cryptographic validity proofs to offer scalable and cost-effective transactions on the Ethereum blockchain. With zkSync, computation is performed off-chain and most data is stored off-chain as well.
According to Nansen data, nearly $8 million worth of tokens has flowed into the network in the past week.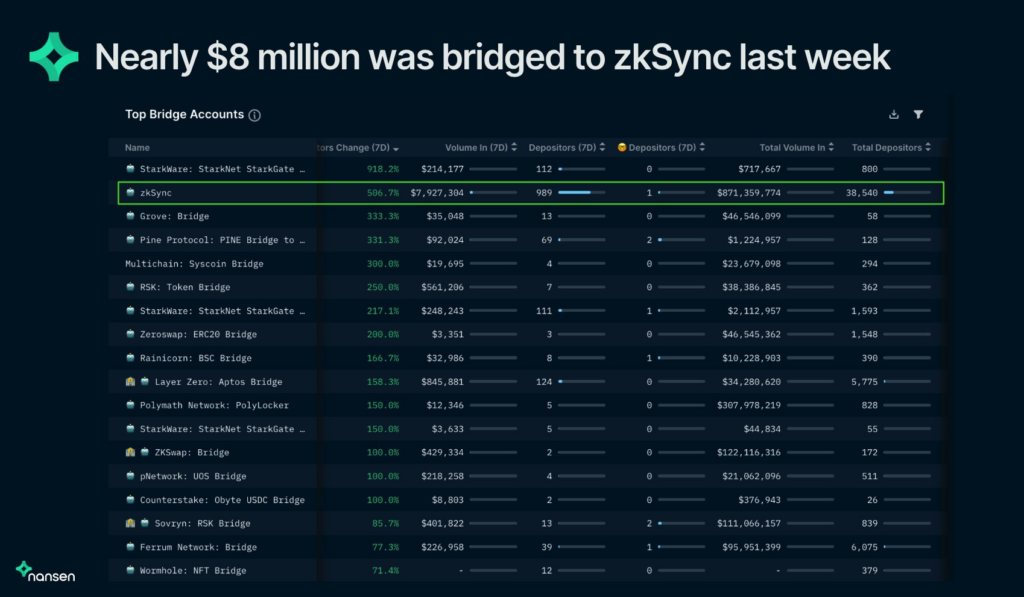 DefiLlama data shows that the total-value-locked metric on the zkSync-based decentralized exchange ZigZag has surged to over $13 million from last week's $1.5 million. All of the inflows to ZigZag were in tether (USDT) stablecoins.
It is likely that these movements are in anticipation of a token airdrop from other networks, following layer 2 blockchain Arbitrum's decision to issue its token to users last week.
The SEC has issued a subpoena to Sushi DAO, a key contributor to the project
Sushi DAO and its Head Chef Jared Grey have received a subpoena from the U.S. Securities and Exchange Commission, as revealed by the decentralized autonomous organization on Tuesday.
In response, Grey proposed the creation of a "Sushi DAO Legal Defense Fund" in a forum post, which would provide legal cost coverage for core contributors.
The proposal suggests making $3 million worth of tether (USDT) available for core contributors, with an additional $1 million worth of USDT accessible in the event that the initial $3 million is exhausted.
"We're cooperating with the SEC. We do not intend to comment publicly on ongoing investigations or other legal matters," the forum post stated.
One commenter on the forum post asked how the DAO known as Sushi was subpoenaed, noting that they did not receive it despite being a member of the DAO.
Following the news, the value of the Sushi token fell by 5.5% and is currently trading at $1.156, down from a high of $1.216.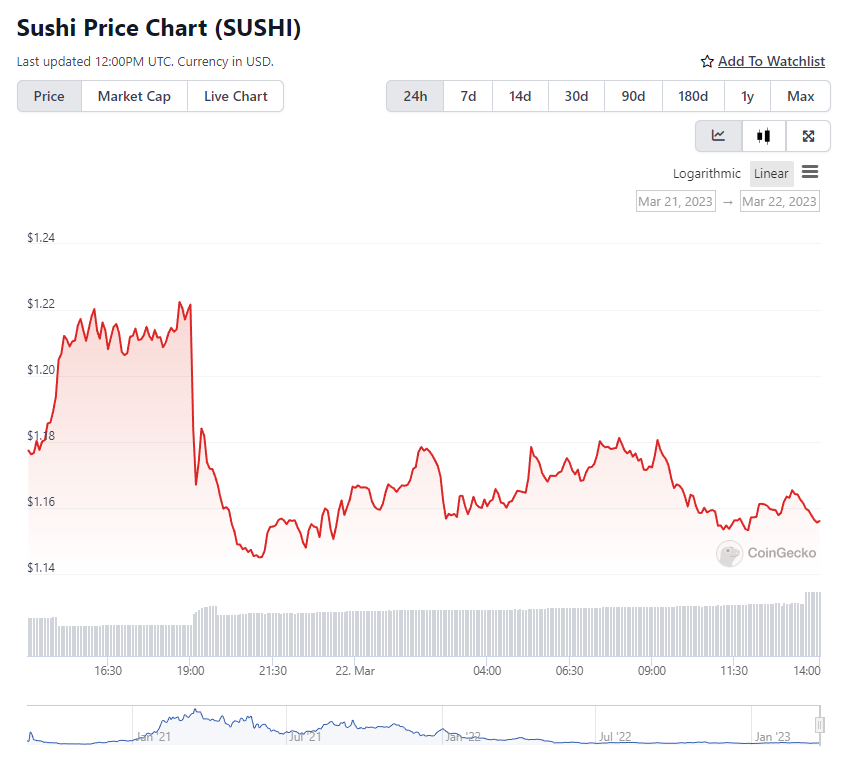 Sony has submitted a patent application for NFTs, enabling their transfer between games and consoles
Sony Interactive Entertainment, a major player in the entertainment and gaming console industry, has applied for a patent that would enable non-fungible tokens (NFTs) to be transferred between different consoles and games.
This would allow users of Sony products, including its flagship PlayStation, to have an interoperable Web3 gameplay experience, allowing them to transfer in-game assets across various devices such as virtual reality (VR) headsets, computers, tablets, and smartphones. The patent also suggests that NFTs could be used cross-generationally, such as from PS4 to PS5.
The patent application also discusses how NFTs could be used for achievements and tournaments, stating that "In some example embodiments, the task may include a victory in an esports tournament and the digital asset may be usable via the NFT by the first end-user entity across plural different computer simulations."
Additionally, the framework aims to be interoperable with products outside of the Sony ecosystem, such as Xbox or cloud-based video games, enabling assets to be fully transferable and usable between different gaming ecosystems.
The patent application also includes a feature to prevent gamers from repeating tasks to earn the same NFTs with different products or games, with the ability to prevent "performance of the task again in other instances of the computer simulation that are executed, and/or declining to provide additional NFTs for subsequent additional performances of the task."
Magic Eden has integrated ordinals and launched a marketplace for Bitcoin NFTs
Magic Eden, a well-known NFT marketplace, is partnering with Bitcoin wallets Hiro and Xverse to enable traders to buy, sell, and list Ordinal NFTs. Magic Eden will enable collectors to purchase inscriptions, which are non-fungible tokens minted on satoshis within the Bitcoin network.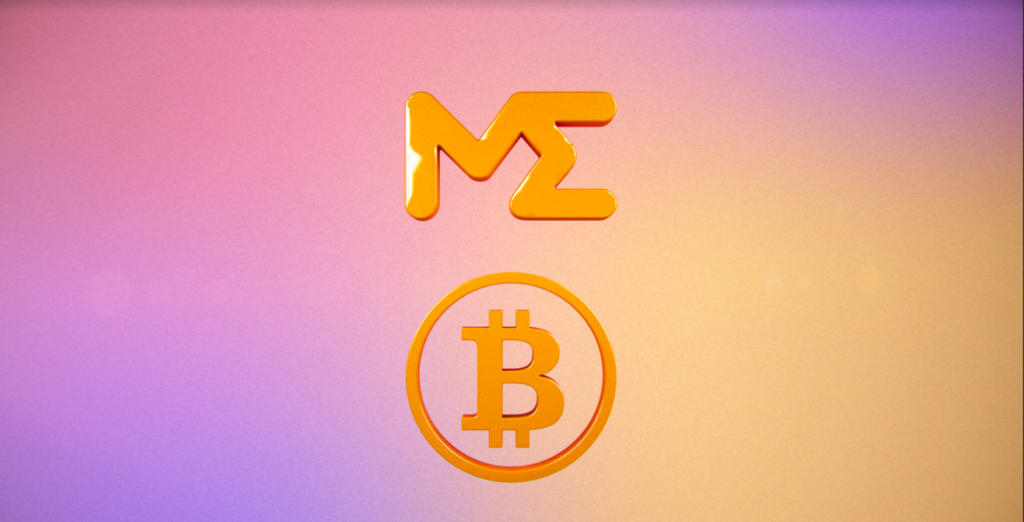 The marketplace is launching in partnership with popular Ordinal collections Taproot Wizards, Inscribed Pepes, and Bitcoin Bandits, and will also provide information on NFTs such as Ordinal rarity and inscription numbers.
Magic Eden has traditionally been a Solana-based NFT marketplace, but it is expanding across various blockchain ecosystems, adding support for Ethereum in August and for Polygon in November.