Bitcoin's value falls below $27,000 as investors assess the impact of debt ceiling negotiations and regulatory measures
Bitcoin's (BTC) price plunged below $27,000, reversing its recent gains as investors continued to evaluate the ongoing debt ceiling discussions in Washington, D.C., and the latest regulatory actions.
According to CoinGecko data, the leading cryptocurrency by market capitalization was recently trading at approximately $26,700, marking a 2.1% decline over the past 24 hours.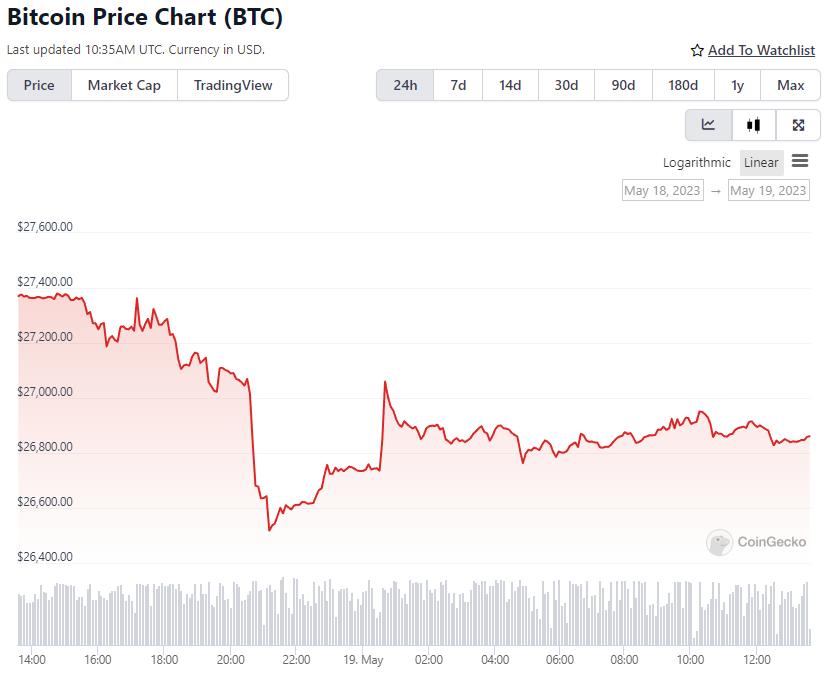 Despite briefly reaching $27,500 on Thursday morning, BTC experienced a rapid pullback in the afternoon, dropping to nearly $26,400.
Edward Moya, a senior market analyst at foreign exchange market maker Oanda, noted that Bitcoin is hovering near its recent lows as investors eagerly await regulatory clarity and indications of potential use-case arguments from Wall Street.
Moya added that the current frustrating trading range has discouraged many investors, and if the fundamentals of cryptocurrencies fail to improve soon, downward pressure could resume.
Within the past four hours, over $20 million worth of BTC futures were liquidated, with 87% of them being long positions or bets on higher prices, according to Coinglass data.
Following a similar pattern, Ether (ETH), the second-largest cryptocurrency by market capitalization, also declined by 1.6%, reaching approximately $1,795 on Thursday afternoon.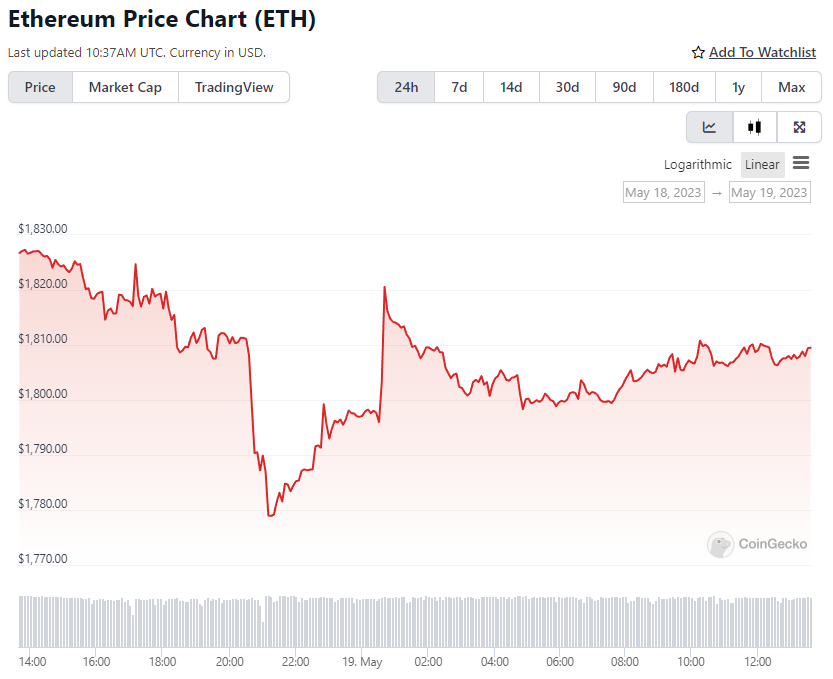 Conversely, equity markets concluded the day on a positive note, with a late rally boosting the Nasdaq by 1.5%, the S&P 500 by 0.95%, and the Dow Jones Industrial Average by 0.35%.
Coinbase launches subscription service, expanding globally beyond the U.S. to include the U.K., Germany, and Ireland
Coinbase has officially launched its zero-fee subscription service, Coinbase One, expanding from the U.S. to include the U.K., Germany, and Ireland.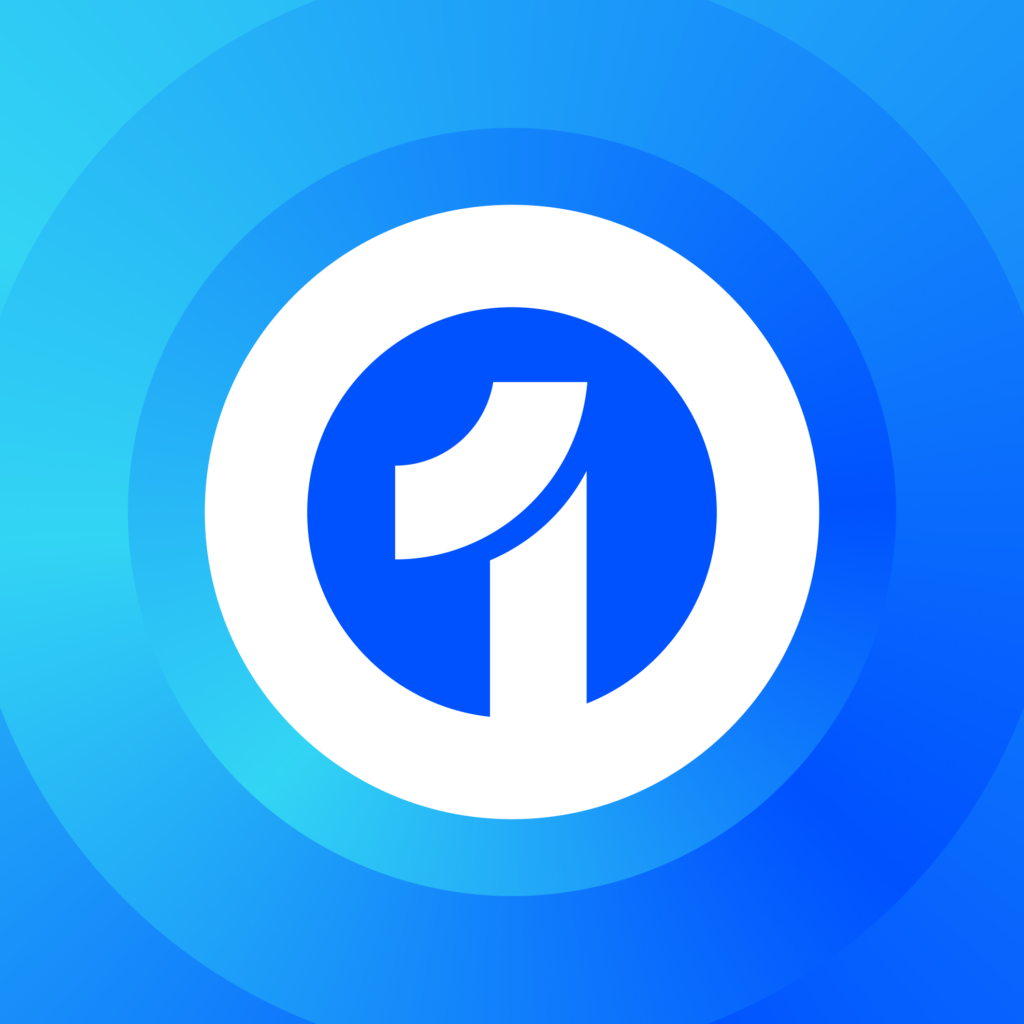 For $29.99 per month, customers receive benefits such as no trading fees, increased staking rewards, pre-filed tax return documents for U.S. clients, access to Messari insights and analytics, and a six-month free trial for personal crypto portfolio analytics from CoinTracker.
The company plans to further expand Coinbase One to a total of 35 countries, primarily in Europe, in the coming months as part of its global expansion strategy.
Binance Australia Suspends Bank Transfers Involving Australian Dollars
Binance Australia has announced that it will no longer be able to facilitate bank transfers involving Australian Dollars through PayID, as stated in a tweet on Thursday.
Binance Australia attributed this change to issues with its third-party payment service provider and assured users that alternative solutions are being sought.
Despite this development, Australian users can still purchase and sell cryptocurrencies using their credit or debit cards, while Binance's P2P marketplace continues to operate normally. This situation arises amidst challenges faced by crypto exchanges in maintaining fiat on-ramps.
Furthermore, the Australian Securities and Investments Commission (ASIC) is currently reviewing Binance Australia's derivatives business following an incident where approximately 500 users were mistakenly classified as "wholesale investors."
As a result, their derivative positions were closed, which is prohibited for retail traders under local regulations.
Binance has committed to fully compensating the affected users.
It's worth noting that Binance Coin (BNB) remains unaffected by these developments and is currently trading without significant fluctuations.
FTX Units file lawsuits against Embed Shareholders, aiming to recover $6.9M
Alameda Research and West Realm Shires, two divisions of the bankrupt FTX conglomerate, are pursuing the retrieval of $6.9 million from shareholders of Embed Financial.
Embed Financial, a broker-dealer acquired by Sam Bankman-Fried using FTX funds, is the subject of legal action as per a court filing in Delaware on Wednesday.
Alameda Research alleges that Bankman-Fried and other FTX insiders utilized misappropriated funds to make payments to Embed in late September 2022, just weeks prior to the crypto exchange declaring bankruptcy.
Under bankruptcy laws, Alameda and West Realm Shires (also known as FTX US) aim to recover the funds disbursed to Embed shareholders by initiating a process to reverse "fraudulent transfers," which involve transferring a company's assets to hinder repayment to creditors.
The shareholders implicated in this legal action include Y Combinator and Bain Capital Ventures.
ApeCoin DAO has given its approval to a proposal aimed at enhancing the growth of Bored Ape NFTs and the overall APE ecosystem
ApeCoin DAO has approved a community proposal to establish an Accelerator aimed at supporting the incubation of projects that utilize ApeCoin tokens (APE) in order to strengthen the growing ecosystem.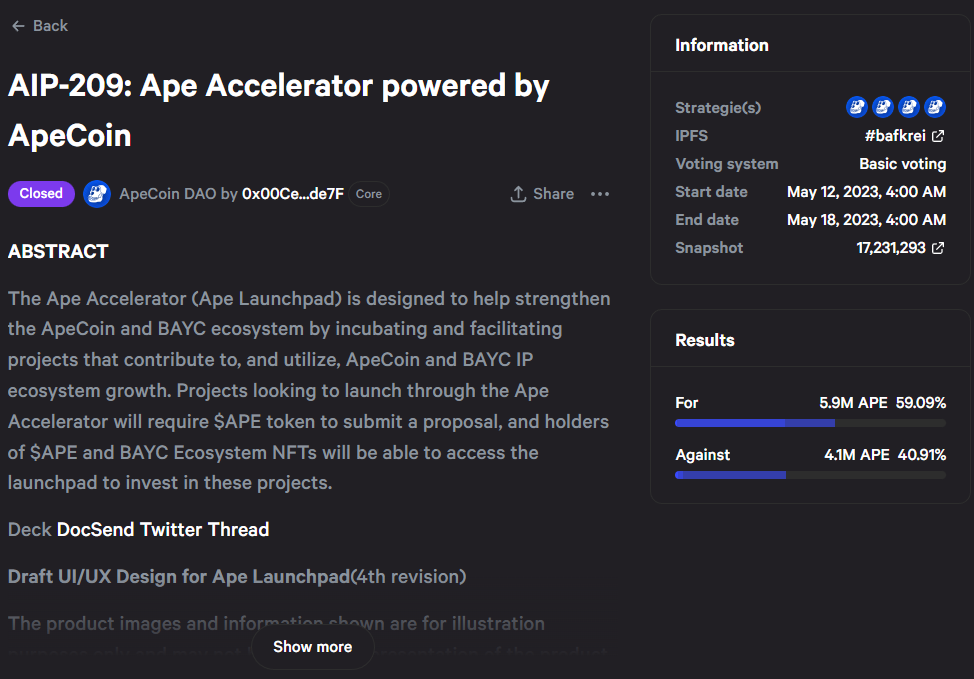 The newly approved AIP-209, submitted through ApeCoin DAO's Idea Proposal system, will facilitate the incubation and launch of community-endorsed projects focused on enhancing the value of the Bored Ape Yacht Club (BAYC) NFT collection, as well as other projects utilizing ApeCoin.
The "Ape Accelerator" seeks to actively involve the ApeCoin community as initiators, voters, and participants. Initiators can propose projects to be incubated, while voters can utilize their APE tokens to vote on the launch of proposed projects.
Approved projects will receive support from participants who can purchase NFTs and other yet-to-be-specified tokens.
Projects launched through the Accelerator will utilize ApeCoin, potentially increasing its value as they generate revenue and returns for token holders.
ApeCoin was initially distributed as a governance token to holders of the popular Bored Ape Yacht Club (BAYC) NFT collection, which consists of 10,000 unique cartoon ape images, currently valued at $83,000 each.
ApeCoin also has utility in other Yuga Labs projects, including Otherside, Mutant Ape Yacht Club (MAYC), CryptoPunks, MeeBits, and Bored Ape Kennel Club (BAKC) – all highly regarded and influential NFT collections.
Initially, the Ape Accelerator's launchpad will operate on the Ethereum network and offer a tiered structure for participation based on users' APE stakes and qualifying NFT holdings.