Bitcoin crosses the $30K threshold for the first time since June 2022
Bitcoin (BTC) has surpassed the $30,000 mark for the first time since June 10, 2022.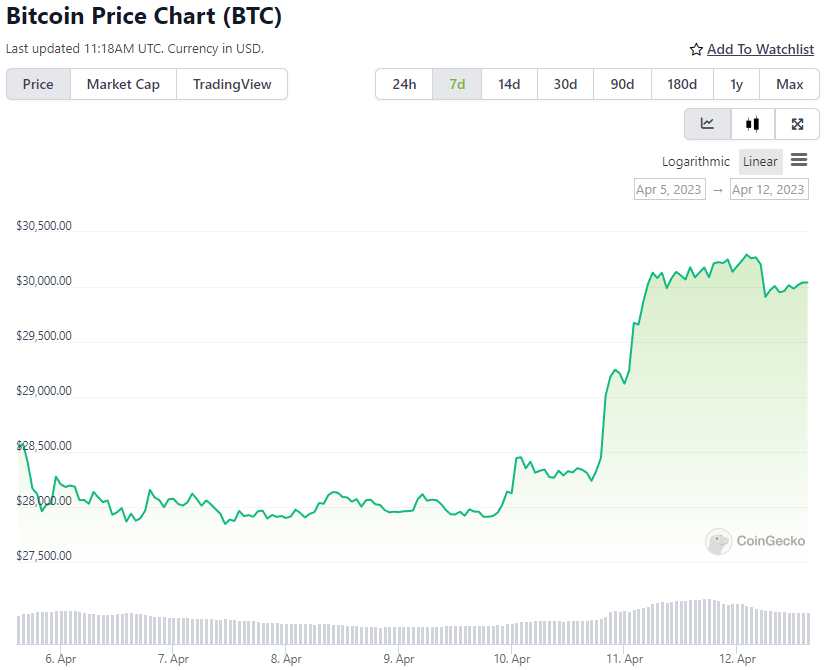 This surge is attributed to the fading of March's banking turbulence and increased optimism among investors about U.S. central bank monetary policy. The cryptocurrency is currently trading at $30,237, indicating a 6.75% increase over the past 24 hours.
Bitcoin's price had last crossed the $30,000 threshold on June 10, 2022, as it was on a downward trajectory towards below $20,000, where it spent much of late 2022 and the first weeks of 2023.
In the past three weeks, it has been hovering around $28,000 as cautious investors assessed the impact of a near banking meltdown, inflationary pressures, and other macroeconomic uncertainties.
Bitcoin's year-to-date gain stands at approximately 80%, having started the year at around $16,600.
The cryptocurrency's price surged in January on the back of decreasing inflation, stalled in February, and then regained momentum in late March after the failure of Silicon Valley and Signature banks when some investors questioned the stability of the current monetary system and resumed their appetite for assets that retain their value.
Gold has also experienced a recent spike, surpassing $2,000 for the first time since 2020.
The investment made by MicroStrategy in Bitcoin has become profitable as the price of BTC reaches its highest point in 10 months
MicroStrategy, a Fortune 500 company specializing in business intelligence, has once again seen profits in its Bitcoin investment.
This follows Bitcoin breaking through the critical resistance level of $29,000 to reach a 10-month high of $30,163.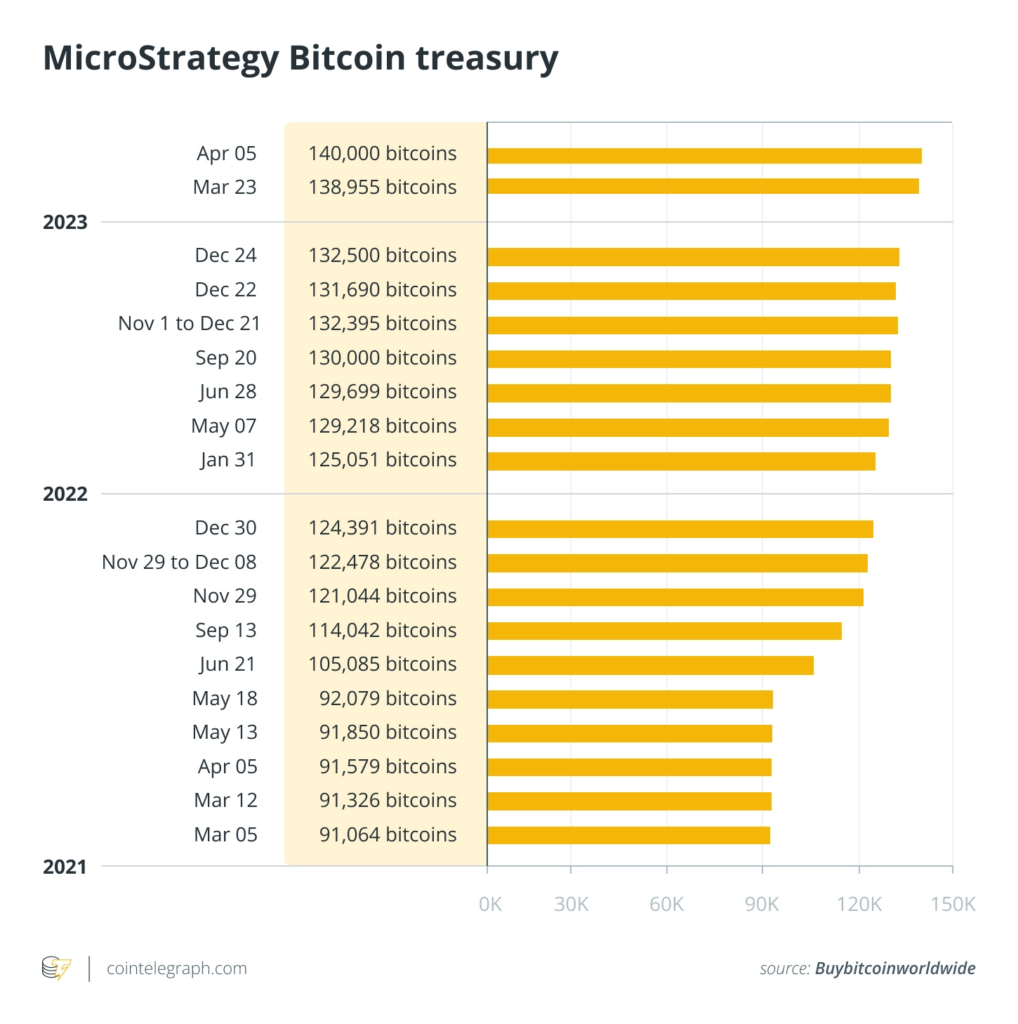 MicroStrategy began investing in Bitcoin during the second quarter of 2020, when the price of BTC was around $10,000 and has continued to make purchases over the past two years. The company now holds a total of 140,000 Bitcoin, which were acquired for almost $4.17 billion at an average price of $29,803 per BTC.
MicroStrategy co-founder Michael Saylor introduced the Bitcoin strategy as a hedge against US dollars in the company's treasury.
In addition to holding BTC on the company's balance sheet, Saylor also convinced several public companies, including Tesla and SpaceX, to accumulate Bitcoin.
While MicroStrategy's Bitcoin bet looked lucrative during the bull market in 2021, the prolonged crypto winter of 2022 caused by the collapse of leading crypto unicorns crashed the BTC price by over 70%.
This caused MicroStrategy's Bitcoin investment to be at a 50% loss at the peak of the bear market in 2022, drawing criticism from some crypto critics.
However, Saylor always maintained his confidence in Bitcoin's underlying fundamentals and continued to invest in the top cryptocurrency.
MetaMask has introduced a fresh feature enabling the acquisition of cryptocurrency through fiat currency
MetaMask, a provider of cryptocurrency wallets and decentralized applications (DApps), has recently announced the launch of a new feature that enables users to purchase crypto with fiat currency directly from its Portfolio Dapp.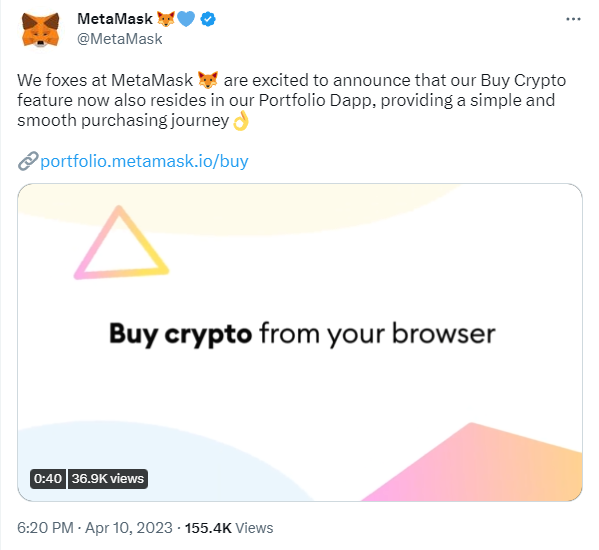 The aim of this move is to simplify the process of buying cryptocurrency with fiat currency for users.
The new "Buy Crypto" feature provides MetaMask users with the option to purchase a wide range of cryptocurrencies using various payment methods such as debit or credit cards, PayPal, bank transfers, and instant ACH (Automated Clearing House).
The service will be available in over 189 countries and will offer more than 90 tokens across eight different networks, including Ethereum, Polygon, Arbitrum, BNB Smart Chain, Avalanche Contract Chain, Fantom, Optimis, and Celo.
To access the feature, MetaMask users can connect their wallets to the Portfolio Dapp or click on the "Buy" button in the MetaMask extension wallet.
They can then select their region, payment method, and the token and network they want to purchase.
The feature takes into account the user's location and local regulations to provide a customized quote for each purchase.
Once the user has selected a quote, they will be redirected to a third-party provider's website to complete the transaction, and the funds will be deposited directly into their MetaMask wallet.