The volatile cryptocurrency market has caused liquidations resulting in losses of $310 million, leading to a drop in Bitcoin's value
On Wednesday afternoon, the cryptocurrency markets experienced a sudden decline, wiping out the gains made in the previous 24 hours in less than an hour.
Bitcoin, the largest cryptocurrency in terms of market capitalization, had reached a high of over $30,000 early on Wednesday but had fallen to around $28,275. It later dropped to a low of $27,264.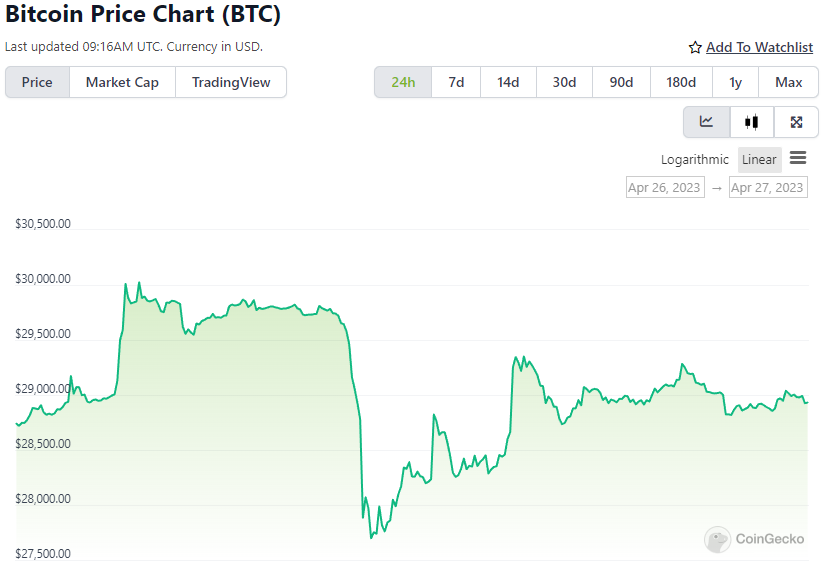 Ether, the second-largest cryptocurrency, had also experienced a drop in value, trading at $1,855, with a high of $1,984 before falling to $1,789 later in the day, its lowest price since April.
Over the past 24 hours, traders had lost around $310 million due to liquidations of both long and short positions as a result of the wild swings in crypto prices, according to Coinglass data.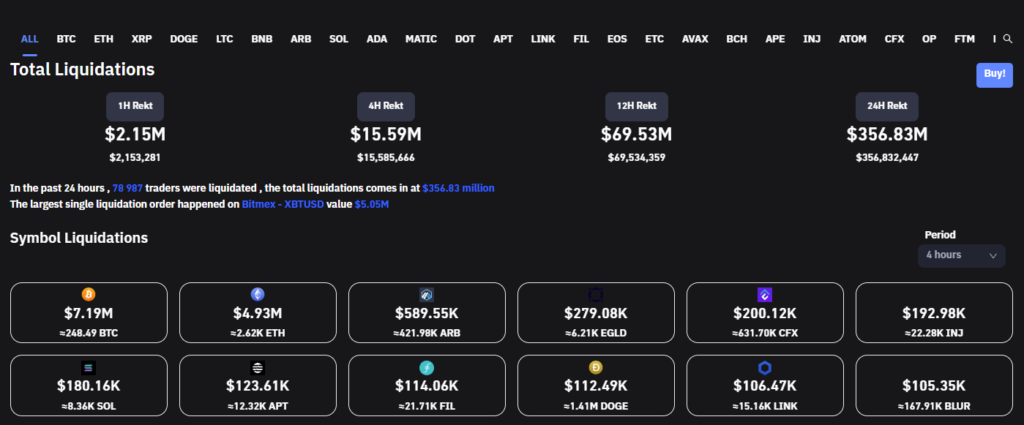 Additionally, Jump Trading, a leading cryptocurrency trading company, had deposited $26.6 million worth of BTC to exchanges prior to the price decline, which typically indicates an intention to sell, according to blockchain analysis firm Arkham Intelligence.
The upcoming update for Apple MacBook will remove the Bitcoin White Paper
According to 9to5Mac, a forthcoming software update for Apple Macintosh computers will remove the Bitcoin white paper, which has been hidden inside the operating system of every Mac computer shipped since 2017.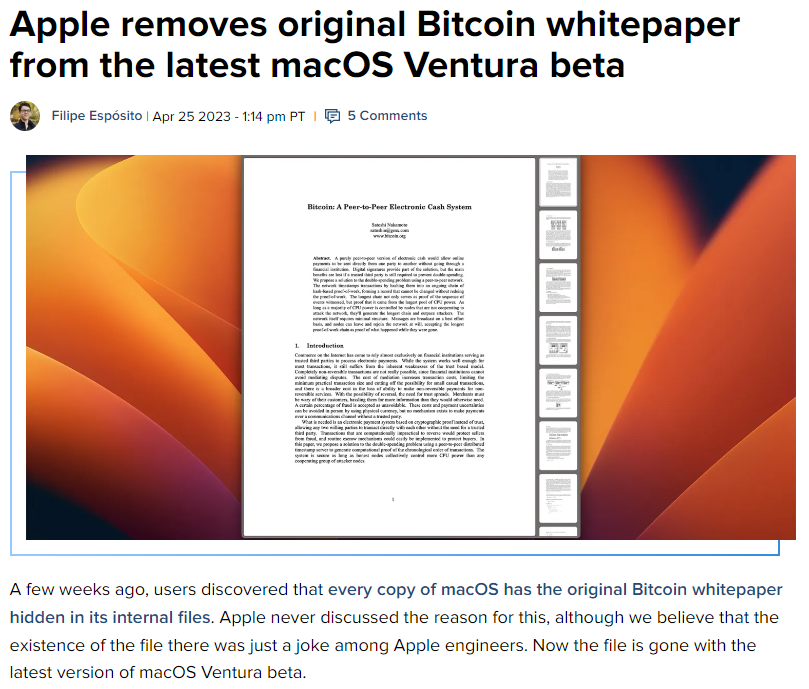 The white paper was discovered by a user named bernd178 in April 2021 and shared on the MacOS Community Forum.
The white paper was found within the Image Capture Utility in a function called Virtual Scanner II, which was not enabled by default.
This "Easter egg" became popular after it was shared by technologist Andy Baio.
However, the beta version of MacOS Ventura 13.4 does not contain the file, indicating that it may have been placed on the system for testing purposes and not intended for everyday users.
As a result, the entire Virtual Scanner II tool has been removed from the beta.
The Bahamas is aiming to strengthen its regulations on cryptocurrency in the wake of the FTX collapse
According to an announcement by the Securities Commission of the Bahamas on Tuesday, the Bahamas is planning to tighten its laws on cryptocurrency following the collapse of FTX, a crypto exchange that was based in the country.
The new legislation, which includes provisions for stablecoins, proof-of-work mining, and staking, has the potential to be one of the most advanced pieces of digital-asset legislation globally, stated Christina Rolle, the executive director of the Bahamas' regulator.
The Bahamas passed its crypto legislation, the Digital Assets and Registered Exchanges Act, in 2020, and FTX, the now-defunct exchange, was headquartered there.
Following FTX's collapse, its former CEO, Sam Bankman-Fried, was accused of misusing company funds for personal gain, but he has pleaded not guilty to the fraud charges filed by the U.S. Department of Justice.
FTX's new management has criticized Bankman-Fried's leadership and is embroiled in a legal dispute with the Bahamas over jurisdiction.
The new bill will require digital-asset exchange operators to ensure their systems and controls are suitable for their business, and it will establish a regulatory framework for stablecoins pegged to the U.S. dollar or another stable asset.
It will also oversee crypto services such as derivatives, advice, and staking, as well as non-fungible tokens.
Cata Labs secures $4.2M funding to work on software that acts as a bridge
Blockchain infrastructure startup Cata Labs has announced raising $4.2 million in seed funding in March at a mid-eight-figure valuation.
The funding round was led by Spartan Group, a crypto venture-capital firm, and saw participation from Alchemy Ventures, Robot Ventures, Circle Ventures, Superscrypt, HashKey Capital, and Maven 11, among others.
Cata Labs is working on Catalyst, a cross-chain bridge that aims to simplify communication between blockchains.
Currently, popular layer 1 blockchains such as Ethereum and Solana face challenges transacting with other blockchains. This has led to an increase in bridging projects such as Wormhole and LayerZero.
Cata Labs' co-founder Alexander Lindgren and former Aave product manager Chang are working to launch Catalyst. Unlike existing bridges, Catalyst can integrate into blockchains that opt into its ecosystem, making it easier to use. The company's belief is that thousands of modular blockchains will need to communicate with each other in the future, and Catalyst will help achieve this goal.
iZUMi Finance, a DeFi protocol, secures $22 million in funding
iZUMi Finance, a decentralized finance protocol that operates across multiple chains, has completed a funding round of $22 million.
The proceeds from the funding will be used to provide early liquidity for the iZiSwap Pro on-chain order book decentralized exchange, which is available on the zkSync Era network. iZUMi Finance simplifies liquidity by offering a "liquidity-as-a-service" model that converts one asset into another or cash in a single step.
Defi Llama data suggests that the platform has a total value locked of around $25 million.
The newer iZiSwap Pro product is an automated market maker-based order book decentralized exchange that, according to the company, reduces transaction costs and lowers the custody risks associated with similar products available in the market.
The fundraising round was more intricate than a conventional "cash in, equity out" deal. The company released an iZUMi zk-Fund through strategic partner Solv Protocol, which is a semi-fungible token (SFT).
Investors who purchase the fund receive an SFT in their wallet that represents their stake, making them a limited partner in the fund. Upon maturity, investors can redeem the SFT for their principal. Unicode Digital, NextGen Digital Venture, Bella Protocol, and Incuba Alpha, among others, participated in the fundraising round.