The license for derivatives of Binance Australia has been revoked at the request of the exchange
On Thursday, it was announced via a press release that the Australian Securities and Investments Commission (ASIC) has canceled Binance Australia's derivatives license at the request of the exchange.
Binance Australia, a subsidiary of the world's largest cryptocurrency exchange in terms of trading volume, will be closing all open derivatives positions held by its customers by April 21.
Binance CEO Changpeng Zhao noted in a tweet that the platform had only 104 users as of the previous day.
However, Binance's spot crypto exchange will continue to operate in Australia.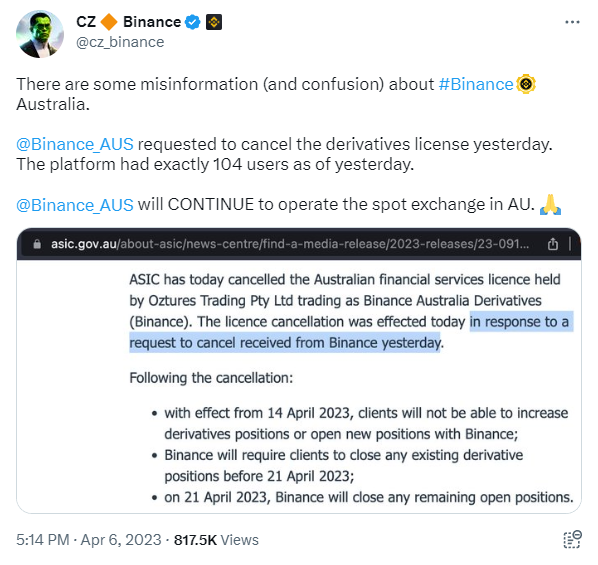 According to a statement by Binance Australia, the decision to "wind down" its derivatives product was made to pursue a more focused approach.
ASIC Chairman Joseph Longo emphasized the importance of AFS licensees correctly categorizing retail and wholesale clients in compliance with the law. Longo affirmed ASIC's support for a regulatory framework for crypto in Australia but noted that the government ultimately makes the final decision.
During the U.S. crackdown and the USDC depeg, Uniswap surpassed Coinbase in terms of trading volume in March
Last month, Uniswap (UNI) took the lead in terms of market share over Coinbase (COIN) as traders gravitated towards decentralized exchanges (DEX) in response to the U.S. regulatory crackdown and a banking crisis that caused major stablecoins to depeg from $1.
According to CCData (formerly CryptoCompare), Uniswap's trading volume exceeded $70 billion in March, surpassing centralized exchange (CEX) Coinbase's $49.2 billion.
This spike coincided with DEX volume reaching a 10-month high overall.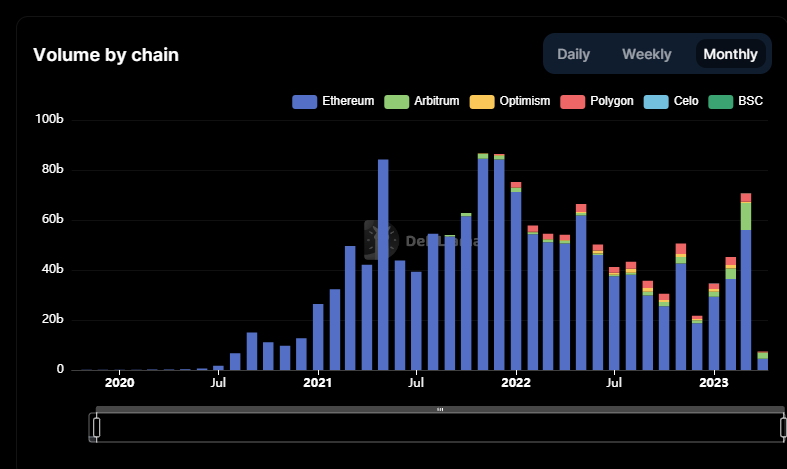 In March, Coinbase received notification that the U.S. Securities and Exchange Commission (SEC) was pursuing an enforcement action against it.
Additionally, the collapse of Silicon Valley Bank (SVB) caused two critical components of decentralized finance (DeFi), namely Circle Internet Financial's USD coin (USDC) and MakerDAO's DAI, to drop from their customary price of $1, resulting in a flurry of DEX trading as panicked investors moved their funds around.
During this crisis, Uniswap saw $13.3 billion in volume on March 11, while Coinbase had only $1.7 billion.
The Bitcoin White Paper was concealed within MacOS
Since 2017, the Bitcoin white paper has been hidden in every copy of MacOS, according to a discovery made by a user named bernd178 on the MacOS Community Forum in April 2021.
The discovery was made within the Image Capture Utility, which contains an inactive function called Virtual Scanner II.
This function contains an unremarkable image of a bay in San Francisco and a PDF copy of the Bitcoin white paper.
Recently, blogger Andy Baio rediscovered this feature and shared it on his blog Waxy.
Baio explained that by entering specific commands into the terminal app, users can open a copy of the white paper.
open /System/Library/Image\ Capture/Devices/VirtualScanner.app/Contents/Resources/simpledoc.pdf
It is unclear why this PDF was included, and users are expected to check whether it exists in MacOS 14, which is set to release later this year.
It will also be interesting to see if Apple takes action and removes the PDF through its usual patching process for MacOS users.
Magic Eden has introduced The Bitcoin Ordinals NFT Creator Launchpad
Magic Eden, a non-fungible token (NFT) marketplace, has introduced a creator launchpad for Ordinals to help creators successfully inscribe their Bitcoin-based NFT collections.
Although creators can already list and sell Ordinals on the platform, the launchpad will facilitate the creation of tokens on the Bitcoin network by onboarding creators to the ecosystem more easily.
Inscribing an Ordinal NFT is a significantly different process from minting a digital asset on Ethereum, which can be a barrier to entry for many creators who are unfamiliar with the intricacies of Taproot and inscriptions.
To address this, Magic Eden aims to simplify the process for the growing market of Ordinals collectors.
Magic Eden's COO and co-founder, Zhuoxun Yin, said the platform's efforts to assist creators in minting Ordinals will contribute to the growth of a larger market for tokenized assets on Bitcoin.
To mark the launchpad's debut, Magic Eden is partnering with Ethereum-based NFT collection Godjira to release its Bitcoin-based (Dead)Jira collection on April 7.
The company has also enlisted creators Genopets, Lazy Lions, Humanoids, and rapper Lil Durk to mint Bitcoin inscriptions on the new platform within the next week.
Lore, a co-ownership platform for Web3, has raised $4 million in a strategic funding round led by Multicoin Capital
Lore, a San Francisco-based co-ownership platform for Web3 collectives, has secured $4 million in strategic funding from a round led by Multicoin Capital.
The funding will be used to explore new use cases and expand to additional blockchains beyond Ethereum, beginning with Polygon and Solana.
Lore is a platform and protocol that enables Web3 creator communities and game guilds to co-own non-fungible tokens (NFTs), allowing for new ownership and utility options.
Co-owner collectives can pool resources, issue ownership stakes to members, and distribute funds with automated administration settings.
Lore also serves as a social network and helps new members to connect with collectives.
The platform emerged from stealth last summer and previously required NFT ownership to join, but it has now opened up to any interested user with its public beta.
Web3 communities currently using Lore include Proof, Friends With Benefits, Seed Club, Memeland, and Azuki.
The $4 million round included investors such as Seed Club Ventures, North Island Ventures, Balaji Srinivasan, Zeneca, Mischief Ventures, Sfermion, CMT Digital, Patricio Worthalter, Spice Capital, and Sublime Venture.
Lore has raised $7.15 million to date.
Withdrawals of Ether for Lido stakers are expected to happen in early May at the earliest, according to a recent announcement from Lido
According to a Lido protocol developer known as Kadmil.eth who spoke on a Twitter space on Thursday, investors who have staked their ether (ETH) via Lido, the dominant liquid staking platform, should not expect ETH withdrawals until "early May" at the earliest.
For ETH withdrawals on the Ethereum blockchain to take place, Lido must adequately prepare the V2 test network launch and complete several security audits for the V2 upgrade.
While the Shapella software upgrade is scheduled to take place on April 12, Lido's V2 testnet preparation and multiple security audits will not be ready by then.
In early March, LidoDAO community members voted for the software overhaul, which is "significant in scope" and the "biggest upgrade" for Lido on Ethereum, where over 5.9 million ETH have been staked.
The V2 upgrade will enable ETH withdrawals on the liquid-staking platform.
With $11.2 billion in total value locked, Lido is the largest decentralized finance protocol, according to DefiLlama, a crypto statistics website.