The value of Dogecoin experiences a significant increase after Twitter swaps its iconic blue bird logo with the cryptocurrency's canine mascot
After Twitter replaced its well-known blue bird with Dogecoin's famous dog logo, the value of Dogecoin (DOGE) surged by over 35%, reaching a peak of $0.1046 compared to its previous value of around $0.077.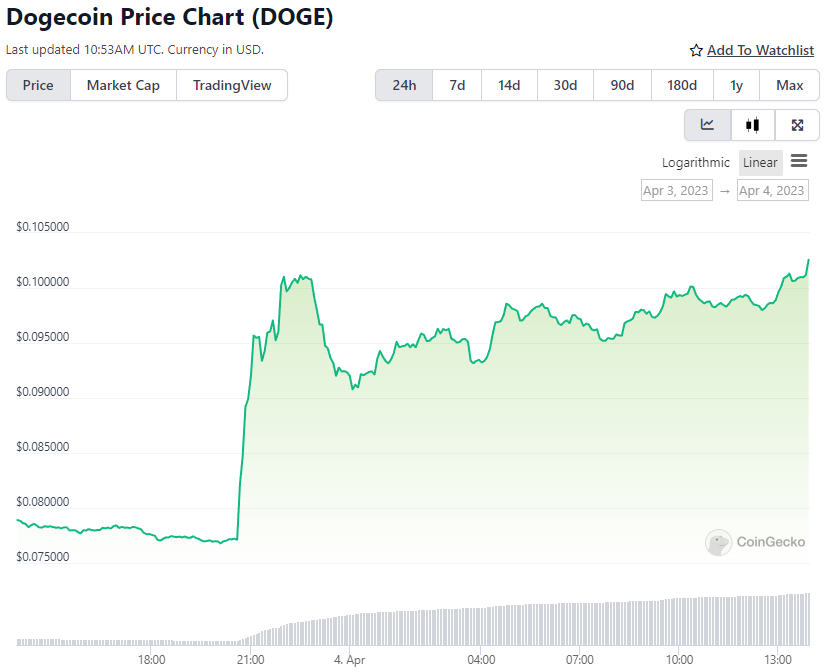 Elon Musk has been a frequent supporter of DOGE, suggesting that it may have better payment functionality than Bitcoin (BTC).
In January, reports emerged that Twitter was developing a payment system for the platform, and while Musk favored fiat currencies, he was keen to include cryptocurrencies, which helped to drive up the price of DOGE.
PancakeSwap, a decentralized exchange (DEX), has released its third version on both the Binance Smart Chain (BNB) and Ethereum networks
On Monday, PancakeSwap, a DEX with over 1.5 million unique users, unveiled Version 3 on the Ethereum and BNB Chain networks.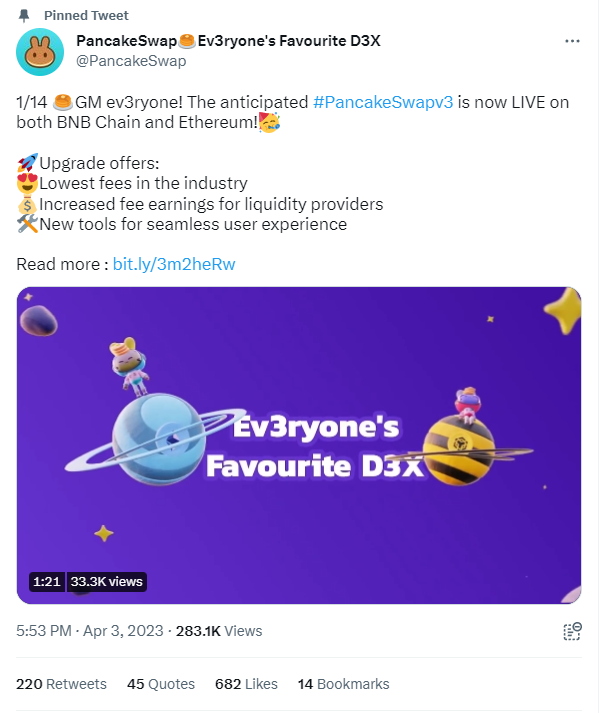 According to the exchange's developers, the upgraded platform will provide lower fees for on-chain trades compared to other DEXs like SushiSwap and Uniswap, as well as increased returns for liquidity providers.
PancakeSwap V3 introduces several features that enhance the platform's capital efficiency, such as the ability for liquidity providers to focus their capital on smaller price ranges, leading to higher fee earnings from the same amount of deposits.
Additionally, V3 offers four different trading fee tiers ranging from 0.01% to 1%, replacing the single tier of 0.25% from V2.
Each token pair can have a liquidity pool for each fee tier, with asset pairs gravitating towards the tier where both liquidity providers and traders receive the most incentives.
The exchange plans to introduce two new features in the future: a V3 "VIP" trading rewards program and a position manager feature.
The VIP program rewards traders for their trading volume with exclusive benefits, including up to a 5% trading fee rebate.
The position manager feature allows traders to optimize their positions based on fees and rewards, eliminating the need for manual calculations and enabling automatic adjustment of positions to earn fee rewards.
Following a speculative comment from Cobie, a popular crypto Twitter personality, both Binance's BNB and Bitcoin experience a decline in value
Binance's BNB and Bitcoin experienced a significant drop in value on Monday amidst rumors that the crypto exchange's CEO was facing an international law enforcement request to detain him.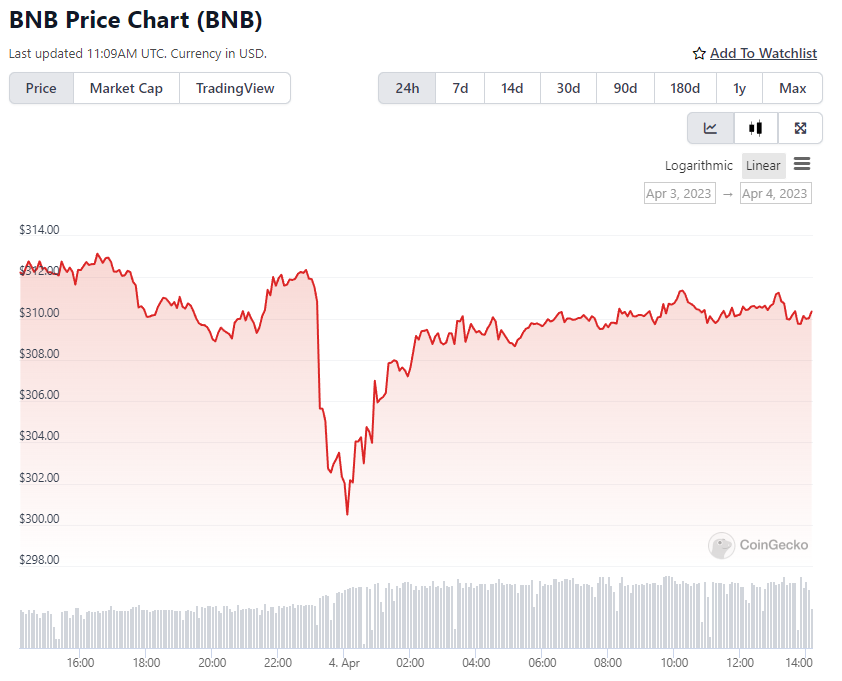 However, the catalyst for this market downturn was an encrypted tweet from @cobie, a well-known crypto personality, which was not intended for public consumption and may have been a mere conjecture.
The tweet contained a garbled message encrypted with the SHA-256 hash function, which is commonly used to secure many cryptocurrencies, including Bitcoin.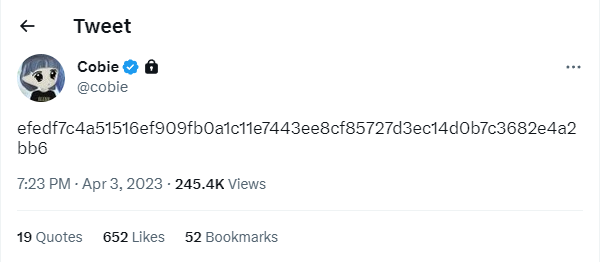 Despite the message being private and difficult to decipher, someone managed to crack it and spread the word.
Given that Binance and its CEO were recently sued by U.S. regulators for "willful evasion" of U.S. laws, the rumor that CZ might face a criminal investigation seemed credible to many, leading to the rapid decline in Binance's exchange token and bitcoin prices.