The shares of Coinbase experience an increase as its Q1 revenue rises by 23% from Q4, reaching $773 million
Coinbase (COIN), the cryptocurrency exchange, announced Q1 revenue of $773 million, surpassing FactSet's estimated revenue of $655 million and increasing from Q4's $629 million.
Despite this, the company reported an adjusted loss of $0.34 per share, which was an improvement from Q4's loss of $2.45 per share and better than analysts' anticipated loss of $1.45 per share.
Trading volume for Q1 was $145 billion, slightly below the projected $147.7 million, while trading volume for Q4 was $146 billion.
Following the announcement, Coinbase's shares rose by 8% to $53 in after-hours trading on Thursday, with a year-to-date increase of around 40%, in line with Bitcoin's rise of roughly 74%.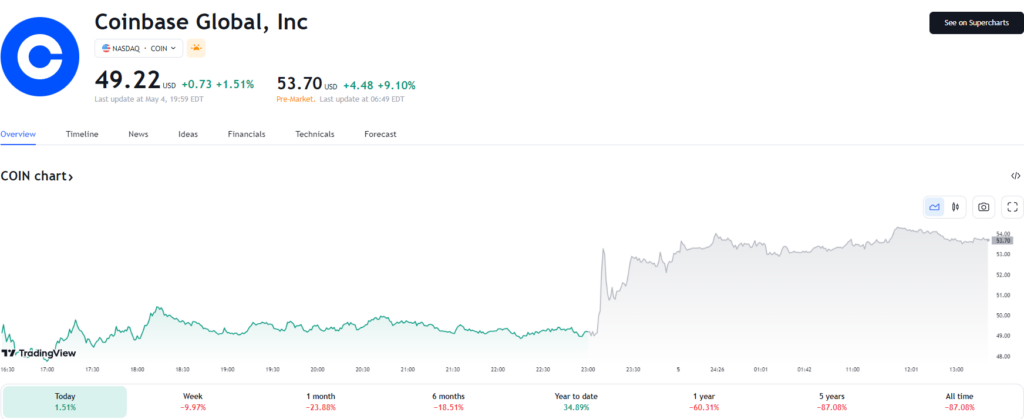 Coinbase's CEO, Brian Armstrong, expressed his optimism about the company's fourth crypto cycle and its resilience in each one.
Coinbase's recent derivatives exchange launch in Bermuda, which is part of the company's international expansion, is expected to have a positive impact on revenue from fees. Although it is still in the early stages, Coinbase is excited about the potential revenue it could generate.
Coinbase is also committed to advocating for clearer regulations in the United States, where its core business remains.
However, the company is expanding internationally, including in Canada, Brazil, and Singapore.
In just one day, Chronos, an exchange based on Arbitrum, has attracted $170 million to its yield pools
Chronos, a decentralized exchange (DEX) based on Arbitrum, saw a surge of over $170 million in a single day after implementing staking, which enables users to earn a yield on their digital assets without having to sell them.
Chronos uses a (3,3) exchange model, where staking is the main means of accruing value to its token and achieving store-of-value status.
This model was popularized by Ethereum-based Olympus DAO, a prominent project in the previous crypto bull market.
Some of the liquidity pools on Chronos are offering up to 2,300% yield to liquidity providers (LPs) in the form of Chr (CHR) tokens, which also provide voting rights for protocol changes. LPs are entities that provide two different tokens to a decentralized exchange's smart contracts and receive a portion of the fees charged by the exchange on each trade.
Holders of CHR tokens can reinvest them to earn additional fees, maintain voting power, and ensure a liquid marketplace for other projects that may need to borrow capital from Chronos.
Such high yields are uncommon in the crypto market and may be the reason behind the sudden influx of capital to Chronos.
At the time of writing, CHR tokens are trading at approximately $1.15 and have a market capitalization of over $90 million.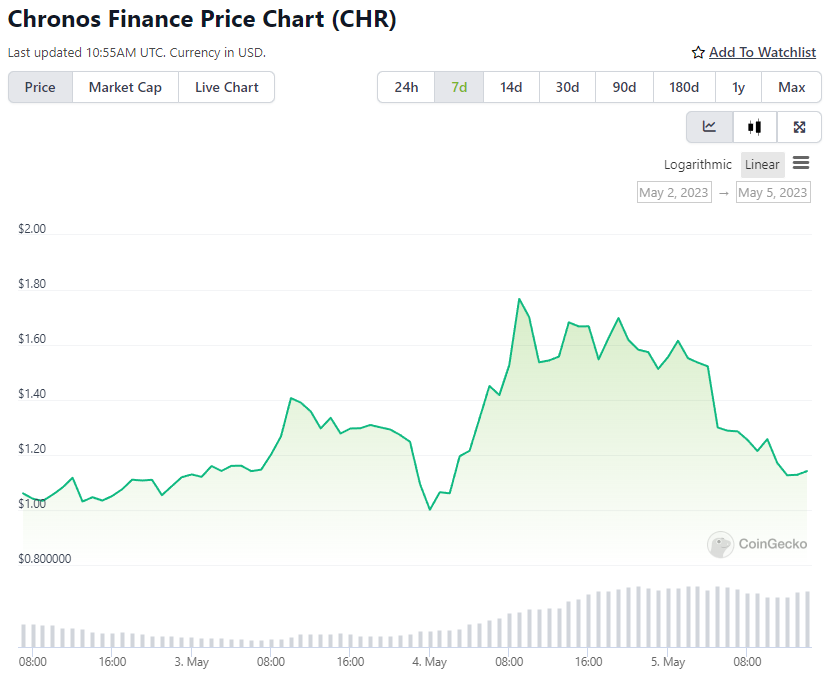 The NFT platform Vibe has received a $4 million funding round from Alchemy Ventures
Vibe, a recently launched platform for non-fungible tokens (NFTs), has secured a $4 million seed round.
The platform provides tools that enable artists to manage and personalize NFTs, with investors in the funding round including Alchemy Ventures (the venture capital arm of Web3 infrastructure company Alchemy), Aglaé Ventures, and P Nation (a music label founded by K-Pop artist Psy).
Vibe's goal is to go beyond the inherent scarcity of NFTs by increasing their value and utility. The no-code platform allows creators to convert NFTs into applications and products that offer both digital and real-world utility, including features like loyalty points, ticketing, and physical redemptions.
Vibe NFTs can be deployed on any chain and bridged to any other chain.
The company's founder and CEO, Rachel Chu, believes that the true potential of NFTs lies in their programmability and dynamism, which can allow creators to add unique features to their collections.
She aims to simplify the process and transform NFTs from mere pictures to actual products.
An Avalanche-based Metaverse Launchpad has been developed by Alibaba Cloud
Alibaba's cloud arm, BABA, has developed a launchpad on the Avalanche blockchain that allows businesses to deploy metaverses.
The platform, called Cloudverse, is an all-in-one solution that enables companies to personalize and manage their metaverse spaces to better engage with customers.
The technology for creating the metaverse spaces will be provided by Avalanche, while Alibaba Cloud will offer computing and storage capabilities.
This collaboration is the second of its kind for Alibaba in under a month, after it teamed up with Mysten Labs to provide node services for validators on the Sui Layer 1 blockchain's testnet.
The initial announcement had little impact on Avalanche's native token, AVAX, which rose slightly from $16.86 to $16.98 at 15:20 UTC (11:20 a.m. ET).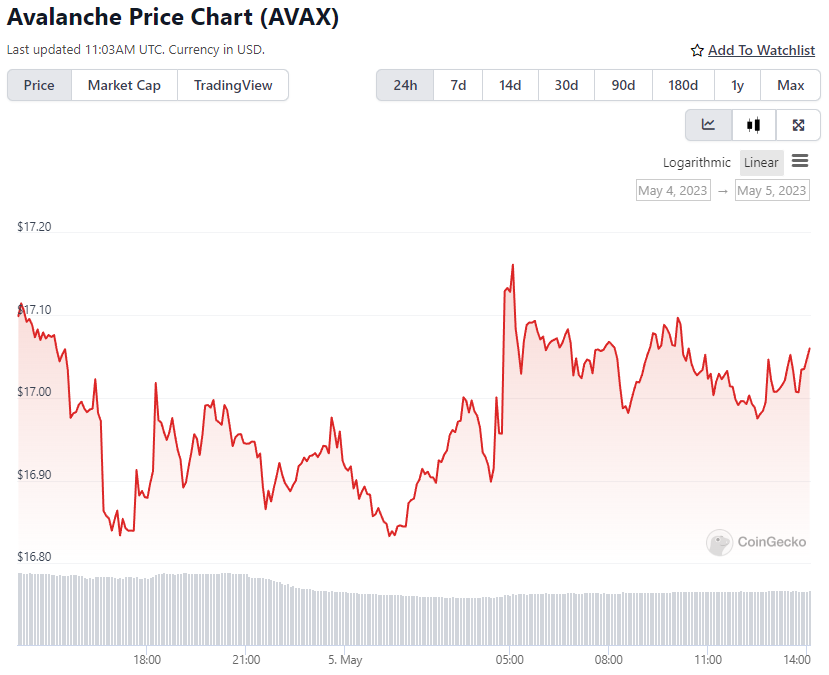 FTX is attempting to recover almost $4 billion in a continuing bankruptcy lawsuit
In a court filing on Wednesday, bankrupt cryptocurrency exchange FTX stated its intention to recover almost $4 billion from Genesis Global Capital, which is also bankrupt.
Genesis had lent almost $8 billion to Alameda Research, an FTX-related entity, just prior to FTX's bankruptcy in November, and had allegedly been "largely repaid".
According to the filing, Alameda had repaid $1.8 billion in loans to Genesis and had committed $273 million to Genesis in the 90 days before FTX filed for bankruptcy. Additionally, Genesis had withdrawn $1.6 billion from FTX, while Genesis Global Capital International had withdrawn $213 million in that same period.
The filing stated that "The Avoidance Actions will seek to claw back funds received by Genesis and non-debtor affiliates so that these funds can be shared with all other creditors of the FTX Debtors in the FTX Chapter 11 Cases," adding that these creditors included several million customers owed over $11 billion as of the time of filing.