The CPI inflation in the U.S. increased by 0.1% in March, which was lower than the anticipated rate of 0.2%
According to the Bureau of Labor Statistics (BLS), the U.S. Consumer Price Index (CPI) increased by 0.1% in March, which is lower than the previous month's 0.4% and below the expected 0.2% by economists.
On a year-over-year basis, the CPI was up by 5.0%, which is lower than the 6.0% reported in February and expected 5.2%.
Meanwhile, the core CPI, which removes volatile food and energy prices, rose by 0.4% in March, matching the forecast and lower than February's 0.5%.
On a year-over-year basis, core CPI rose by 5.6%, consistent with the expected 5.6% and up from 5.5% in February.
The immediate effect of the report was a 1.5% increase in the price of bitcoin (BTC), which had recently crossed the $30,000 mark for the first time since June 2022.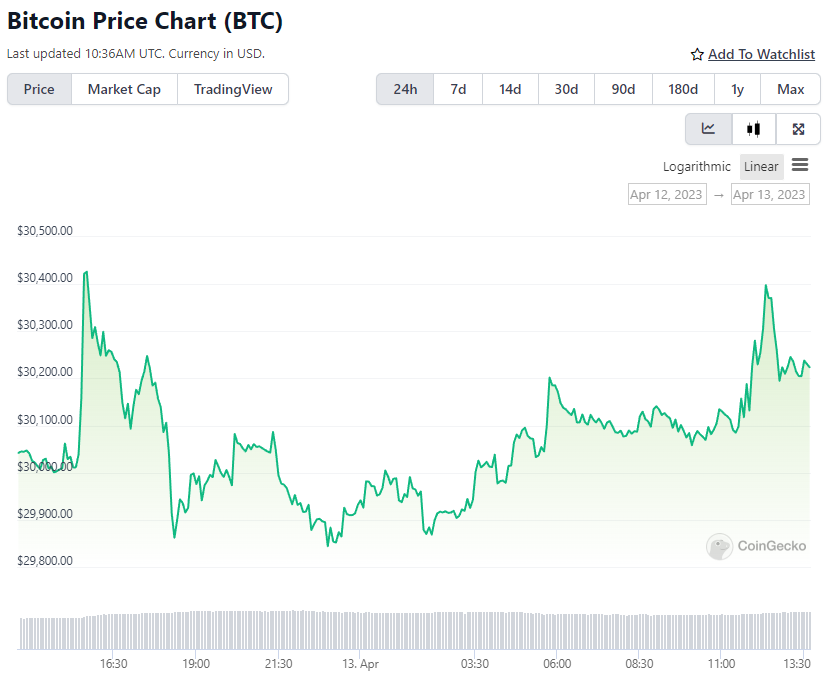 The recent surge in bitcoin's value was partly due to speculation that the U.S. Federal Reserve might halt its year-long interest rate hikes at its May 2-3 meeting.
The softer-than-expected inflation numbers on Wednesday might add to the hope that the Fed will adopt a dovish stance.
The Shanghai upgrade of Ethereum has been successfully completed, marking the beginning of a new phase for staking withdrawals
The finalization of Ethereum's Shanghai hard fork, also known as "Shapella," now allows users who have "staked" their ether (ETH) to validate and secure transactions on the blockchain to withdraw their funds.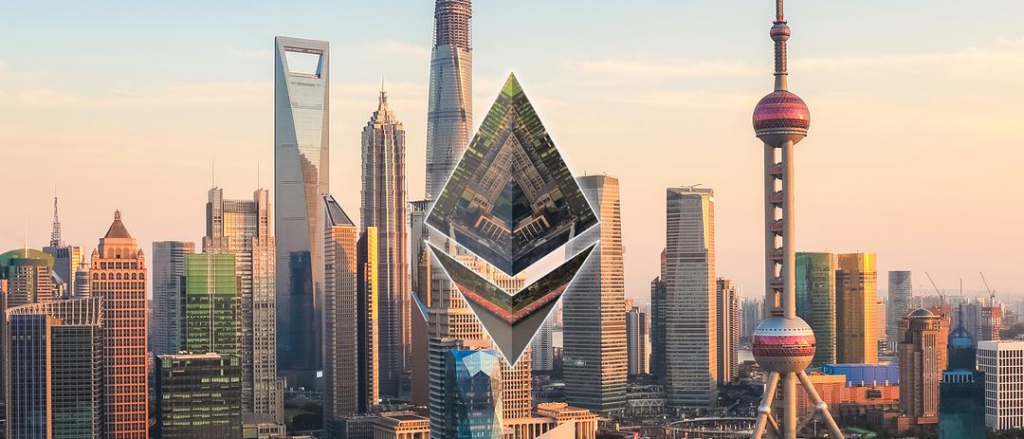 The upgrade was activated at 22:27 UTC and completed around 22:42 UTC.

Within 30 minutes of activation, approximately 285 withdrawals in epoch 194,408 had been processed, amounting to about 5,413 ETH (equivalent to $10 million), as reported by beaconcha.in.
This hard fork has been considered a significant achievement in the Ethereum community, marking the end of its multi-year transition to a complete proof-of-stake network.
In a proof-of-stake system, users stake their cryptocurrency as a guarantee to assist in securing and validating new data blocks.
The blockchain had previously abandoned its original proof-of-work consensus mechanism last year, which is also used by Bitcoin. However, until now, users were unable to withdraw their staked ether or claim their accrued rewards, a crucial feature of the new paradigm.
When the Shanghai hard fork was triggered, the price of ETH remained relatively steady, and roughly 4,000 individuals attended a Shapella Mainnet Watch Party, which was hosted by Ethereum Cat Herders.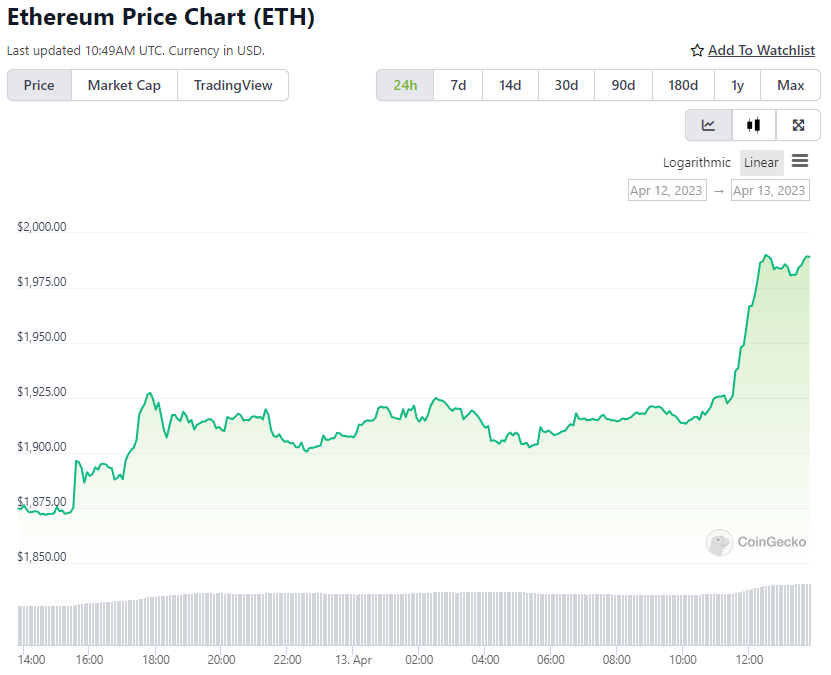 Bitcoin has been referred to as a "gambling token" by Warren Buffett
In an interview with CNBC on Wednesday, billionaire investor Warren Buffett referred to bitcoin (BTC) as a "gambling token".
This echoes his negative views on cryptocurrency, which he has expressed in the past.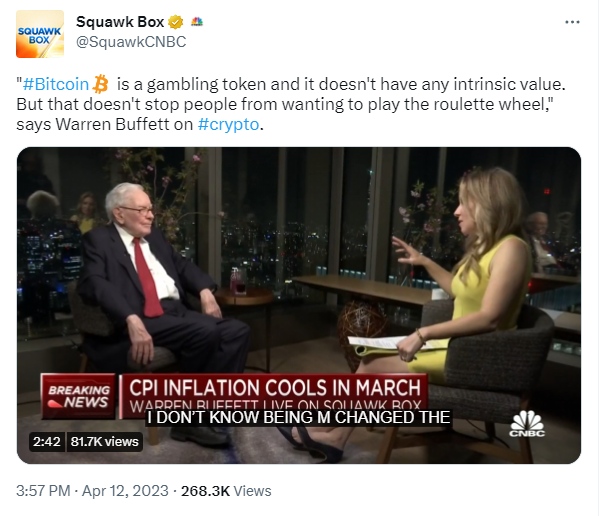 As the chairman and CEO of Berkshire Hathaway (BRK.A), Buffett stated that Bitcoin "doesn't have any intrinsic value… but that doesn't stop people from wanting to play the roulette wheel."
When discussing gambling in general, Buffett explained that "the urge to participate in something that looks like easy money is a human instinct which was always there".
Buffett has been vocal about his disapproval of Bitcoin and famously referred to it as "probably rat poison squared" in 2018.
According to its attorney, the crypto exchange FTX may be able to reopen soon, which has caused a surge in the value of its FTT token
During a court hearing on Wednesday, attorneys from Sullivan & Cromwell representing FTX, the cryptocurrency exchange that collapsed in November, stated that they are considering reopening the exchange as part of their bankruptcy plan.
One option under discussion would involve FTX's creditors converting a portion of their holdings into a stake in a reopened exchange.
The exchange would require significant capital to be raised, and there is debate over whether that capital should come from the FTX estate or third-party sources.
FTX's FTT token more than doubled in price following the news.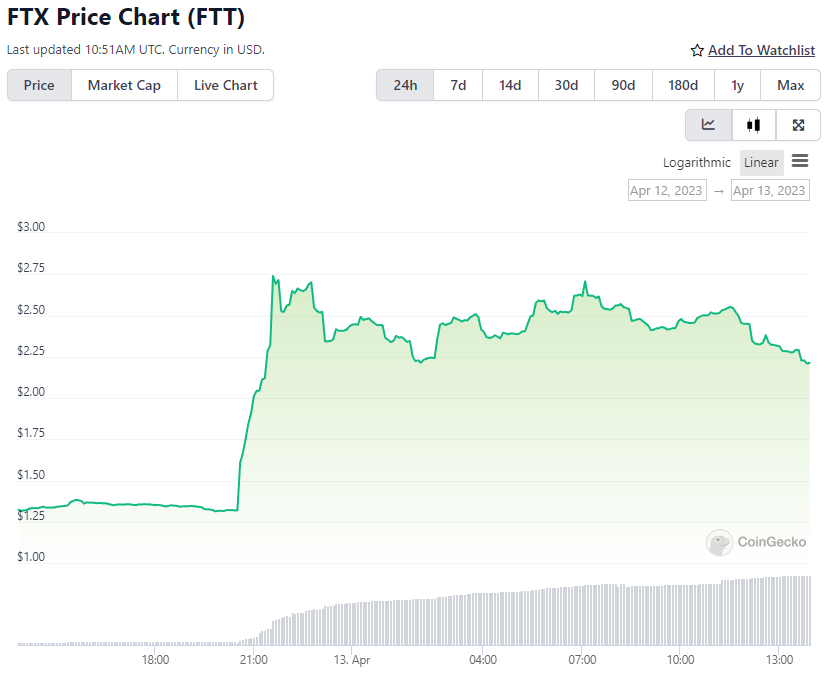 Although the possibility of restarting the exchange is one of many options being considered, the attorneys stressed that any decisions are far from final, and they noted that FTX has recovered $7.3 billion in liquid assets from the defunct exchange, up from January's $1.9 billion tally, but is still "far away from an equity distribution."
Users of Euler Finance are now able to redeem funds that were recovered after the platform suffered a $200 million theft
Euler Finance, a decentralized lending platform that suffered a flash loan exploit resulting in a loss of $200 million, has opened up redemptions for recovered funds to its users as of Wednesday at 02:00 UTC.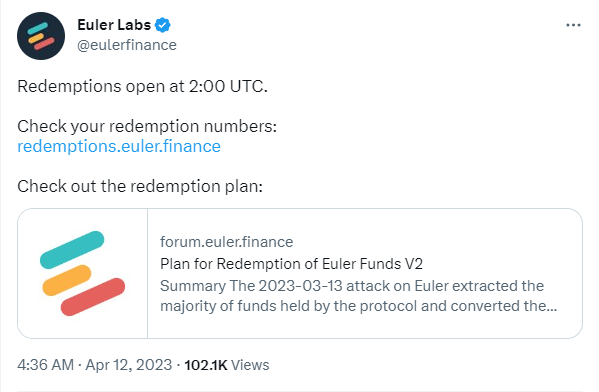 After almost a month, users can now claim the capital they have in the protocol.
Recovered funds include 95,556 ether (ETH) and $43 million of the DAI stablecoin, worth around $223 million based on current prices.
The native governance token of the Euler Protocol, EUL, has increased by 2.5% in the past 24 hours but has decreased by 9.4% in the past week, according to CoinGecko.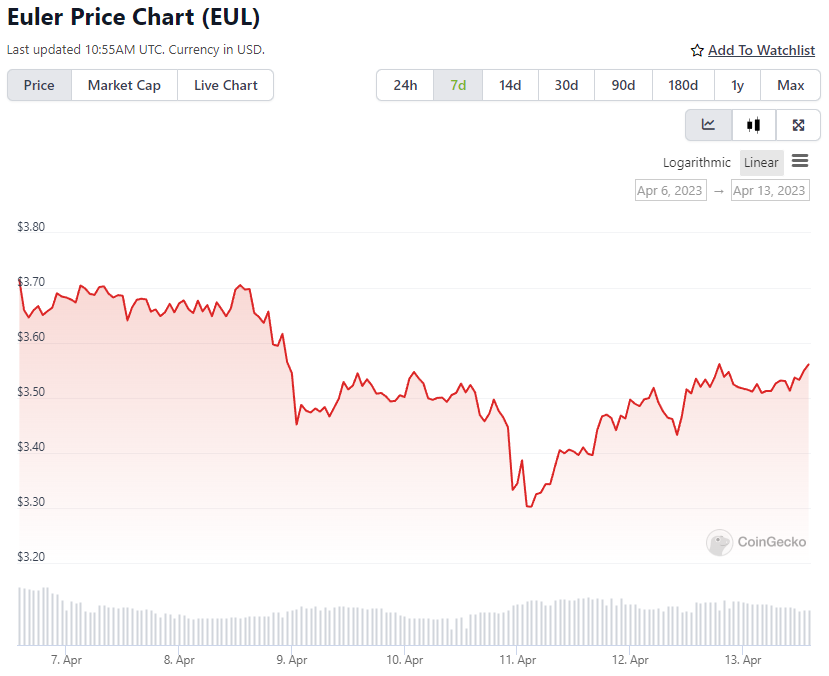 The reopening of redemptions marks a positive outcome for the protocol following the exploit and recovery of most of the lost capital by April.
This is a rare occurrence for exploited protocols.
The firms responsible for Azuki NFTs and Line Friends characters have teamed up to expand into the Web3 space
Chiru Labs, a Web3 company that created the NFT collections Azuki and Beanz, and IPX, the parent company of the popular character collection Line Friends, have announced a partnership.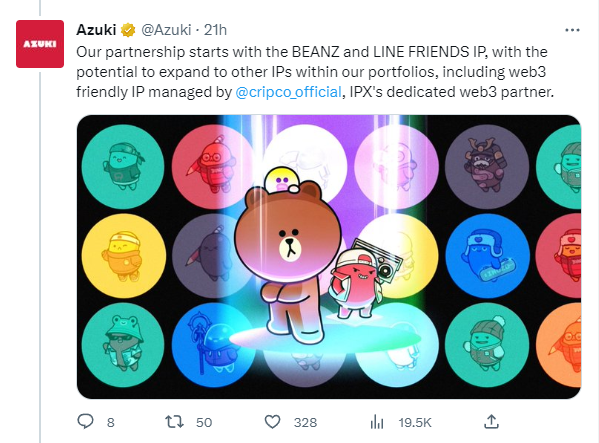 The two companies plan to collaborate on content, merchandise, retail distribution, real-life activations, and immersive metaverse experiences. The initial focus will be on Beanz NFTs and Line Friends characters.
IPX is a growing intellectual property brand that has partnered with companies such as Starbucks, Netflix, and McDonald's, as well as the K-Pop band BTS.
To celebrate the partnership, a billboard in New York Times Square will display an animation of some of the NFT characters during NFT.NYC this week.
Chiru Labs is known for its anime-inspired NFT collection Azuki, which has generated 470,994 ETH (roughly $887,824,000 as of writing) in trading volume since its launch in January 2022.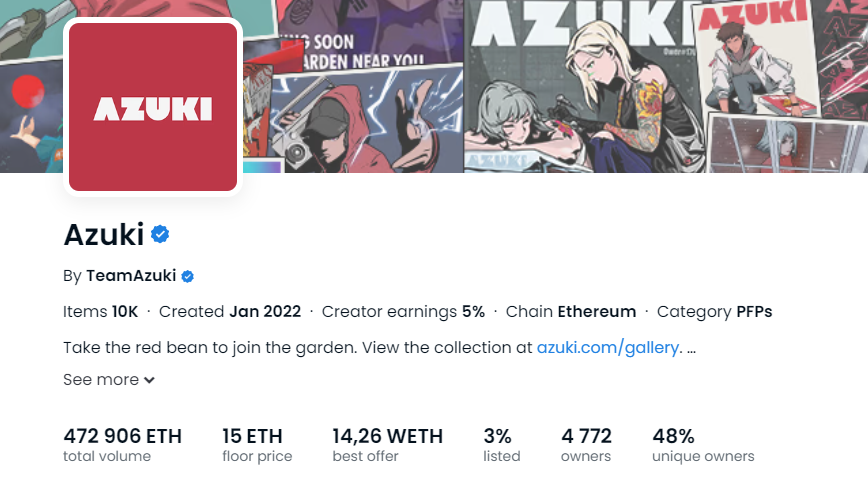 IPX plans to complement Chiru Labs' IP with its multi-faceted character IP business strategy.
The third-generation collection of NFTs has been released by Reddit, indicating their continued support for the digital assets
Reddit has launched its third-generation non-fungible token (NFT) collection, featuring thousands of tokens from over 100 artists.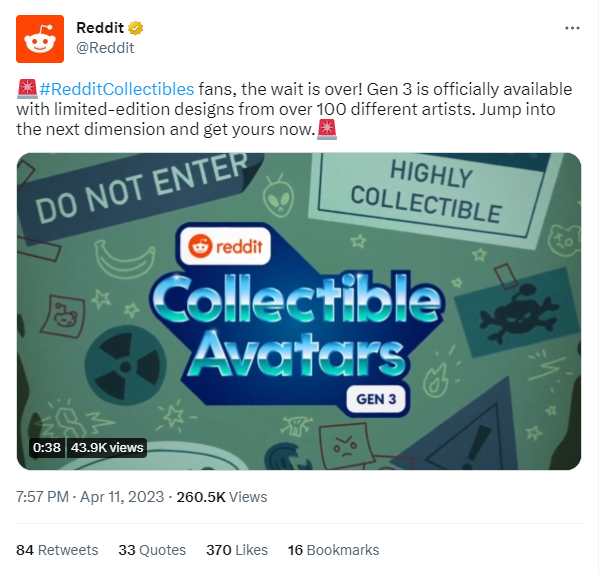 The demand for the collection was so high that Reddit's shop for avatars went down temporarily after the drop, with some users expressing dissatisfaction that anti-bot measures such as CAPTCHA were not employed.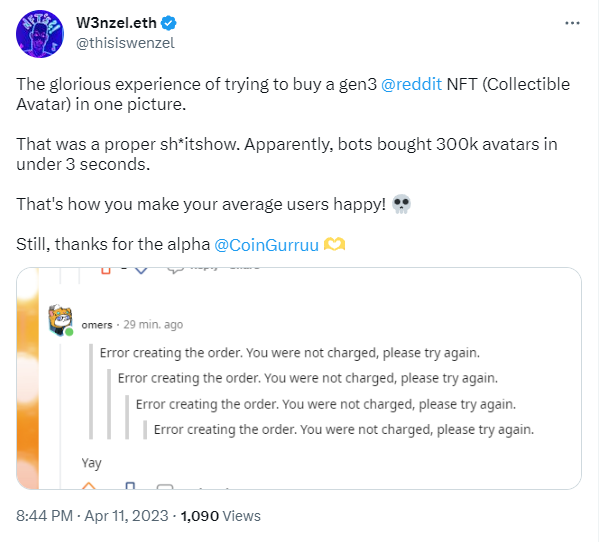 The Gen3 collection is centered around the theme of "future realities" and showcases "Snoo" collectible avatars, based on the character behind Reddit's logo.
These Polygon-based NFTs can be bought using fiat currency and offer interoperability, enabling artists to receive royalties for their work.
Among the featured artists is Chris Torres, the creator of the "Nyan Cat" meme, who celebrated the trend of their Reddit Gen3 NFTs on OpenSea.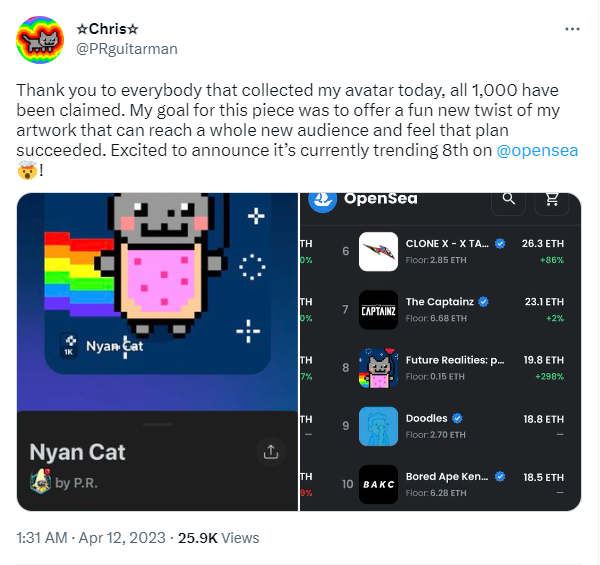 According to Dune Analytics, the Gen3 collection has generated approximately $585,000 in sales volume, and over 7.4 million unique holders can be found across all Reddit-based collections.