One day following the Ethereum Shanghai Upgrade, Ether surges beyond $2,000
After the successful completion of the long-awaited Ethereum upgrade, Ether (ETH) continued to exhibit its recent strength on Thursday afternoon by surpassing the $2,000 mark.
The second-largest cryptocurrency based on market capitalization had a current trading value of $2,115, representing a gain of more than 5% in the previous 24 hours.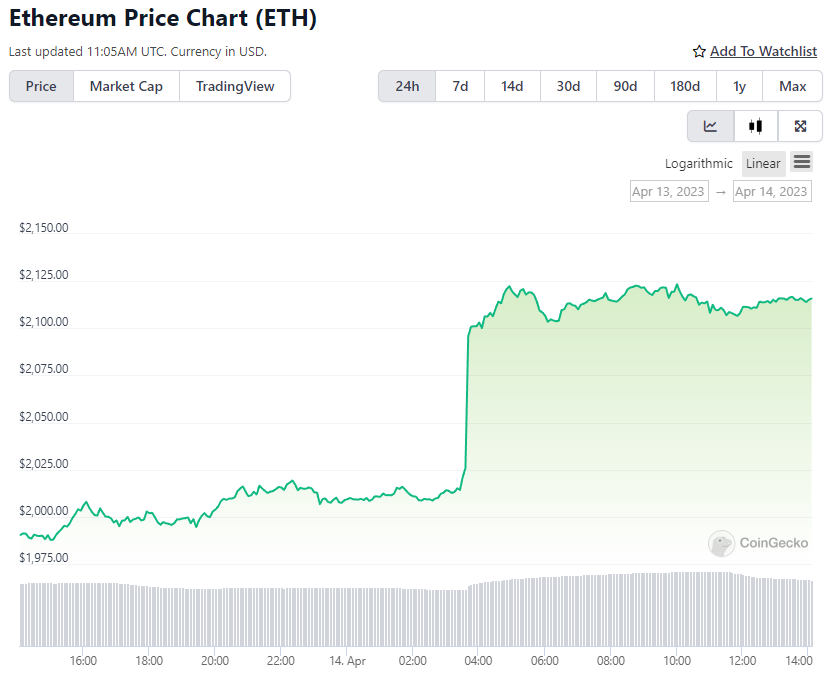 The Ethereum Shanghai hard fork, also known as the Shapella upgrade, further advanced the transition of the Ethereum network from proof-of-work (PoW) to proof-of-stake (PoS) consensus mechanism, which had begun with the Merge upgrade in September.
In the lead-up to the Shapella upgrade, analysts had differing opinions on ETH's price behavior, with some predicting a decline due to selling pressure, while others anticipated little or no impact or even a price increase.
Starting April 19, Binance will enable withdrawals of staked Ether
Binance has announced that starting from April 19 at 08:00 coordinated universal time (UTC), users who have staked Ether (ETH) through the exchange will be able to exchange their BETH holdings for coins at a 1:1 ratio.
This announcement came just hours after the implementation of the Shapella hard fork (also known as the Shanghai upgrade) on Ethereum, which allowed withdrawals of over 18 million ETH staked in the blockchain since late 2020.
Binance has stated that user requests for withdrawals cannot be reversed once submitted, and the process may be slow initially, taking between 15 days to several weeks to complete.
Redeemed ether will be transferred to users' spot wallets, but BETH tokens held in pending ETH withdrawal requests will not be eligible for staking rewards.
BETH is a wrapped token issued by Binance that is 1:1 pegged to ETH on the Ethereum blockchain.
The DeFi platform, Yearn Finance, suffered an impact of almost $11 million due to a security breach that took place through Aave Version 1
Millions of dollars in losses were caused by a bug in a token issued by DeFi protocol Yearn Finance, according to a tweet by security firm PeckShield.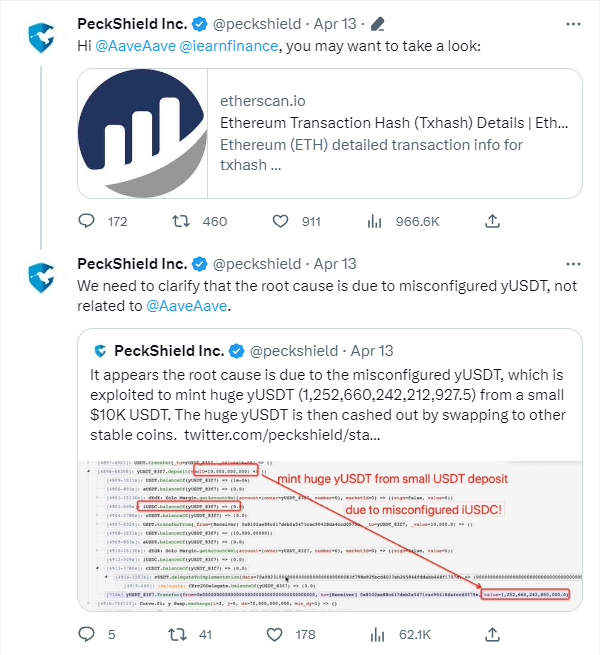 The exploit affected Aave version 1, resulting in losses of over $11 million across various stablecoins.
PeckShield clarified that the exploit was due to a misconfigured yUSDT, not related to Aave.
Exploiters were able to mint over 1.2 quadrillion yUSDT using a $10,000 initial deposit and tricked the Yearn Finance protocol to cash out millions in stablecoins.
However, Aave developers stated that the impact on the protocol was limited as version 1 had been frozen since December 2022, with versions 2 and 3 remain unaffected at the time of writing.
On May 8, the 'Saga' smartphone by Solana, which is designed to support cryptocurrency, will be made available for purchase
Solana Labs has announced that their Saga smartphone, which has been designed to support cryptocurrency, will be publicly available for purchase on May 8.
Pre-ordered devices are currently shipping.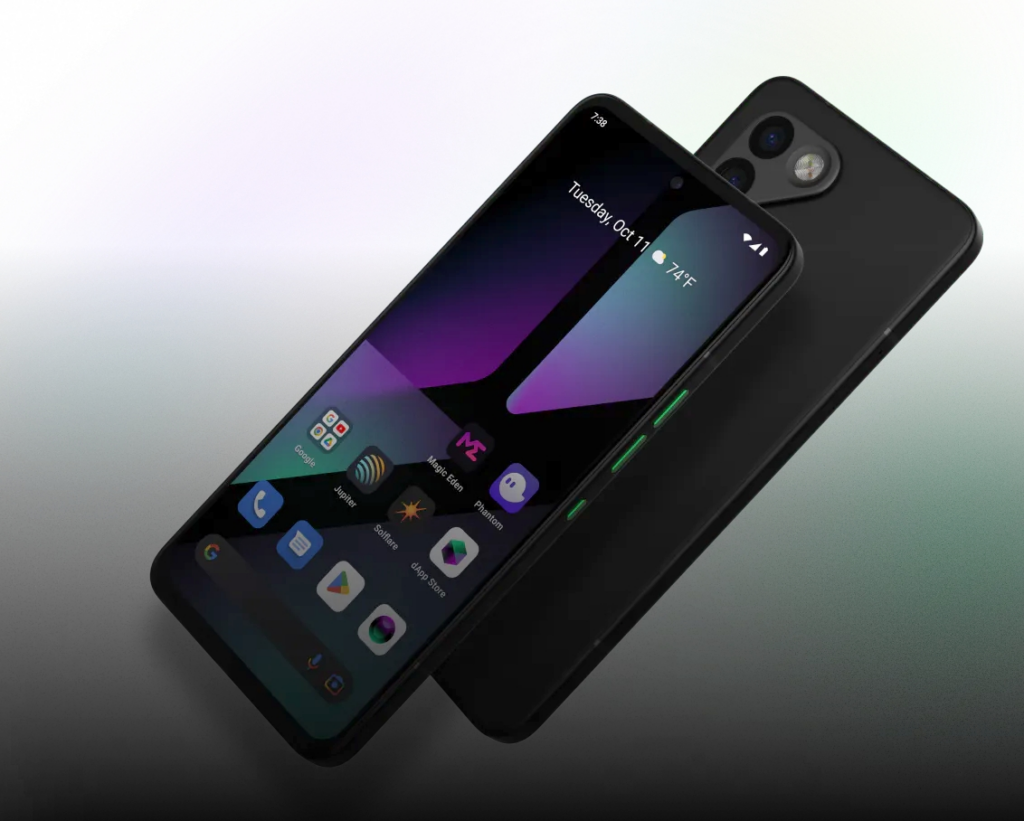 The phone, which is being sold for $1,000, has 512 GB of storage, two back camera lenses, a 6.67-inch OLED display, and a fingerprint scanner. The secure element of the device, where confidential information is stored, has a customized "seed vault" to ensure the safety of a user's private keys.
What sets the Saga apart is the "Solana Mobile Stack" (SMS), a collection of custom add-ons that integrate crypto features into the phone's hardware and software. The SMS has built-in security features for sending, receiving, trading, and storing crypto on the device.
The Saga also has a custom "dapp" store that only features cryptocurrency applications, with over a dozen available for download currently.
Solana has said that it will not impose fees on these applications, which is a jab at the 30% tax charged by Apple and Google on their respective storefronts.
The dapp store is separate from Android's Google Play and is a unique feature of the Saga smartphone.
Twitter users will be able to trade cryptocurrencies directly through eToro
eToro has announced that it will offer trading services for cryptocurrencies and other assets directly to Twitter users through a partnership with the social media platform.
This feature will enable Twitter users who search for "$Cashtags" like $TSLA or $BTC to access real-time prices for stocks, cryptocurrencies, and other assets, and guide them to eToro's platform to invest in them.
CNBC reported this development first, which was then confirmed by eToro on its official Twitter account.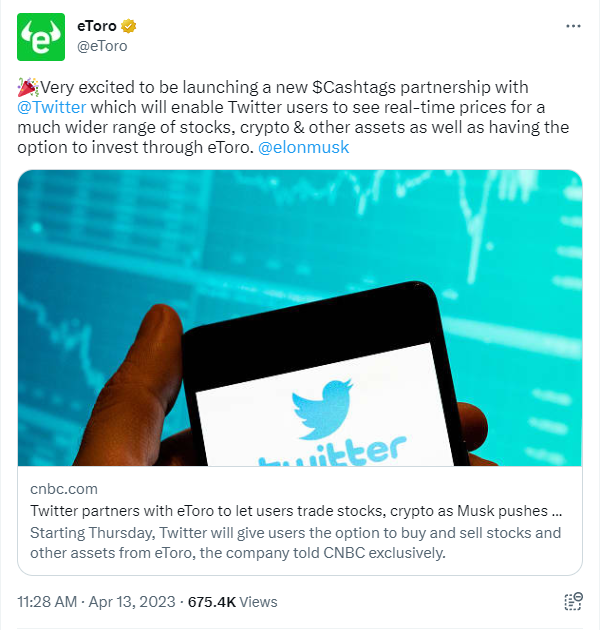 The expansion of $Cashtags aligns with Twitter owner Elon Musk's vision of integrating financial services into the platform to create a "super app."
Musk has stated previously that he intends for Twitter's proposed payment system to be capable of supporting both fiat currencies and cryptocurrencies.
Uniswap, a decentralized finance (DeFi) exchange, has launched a mobile wallet
Uniswap, a DeFi exchange, has announced the launch of a mobile wallet app aimed at promoting wider adoption of DeFi wallets and facilitating on-the-go trading.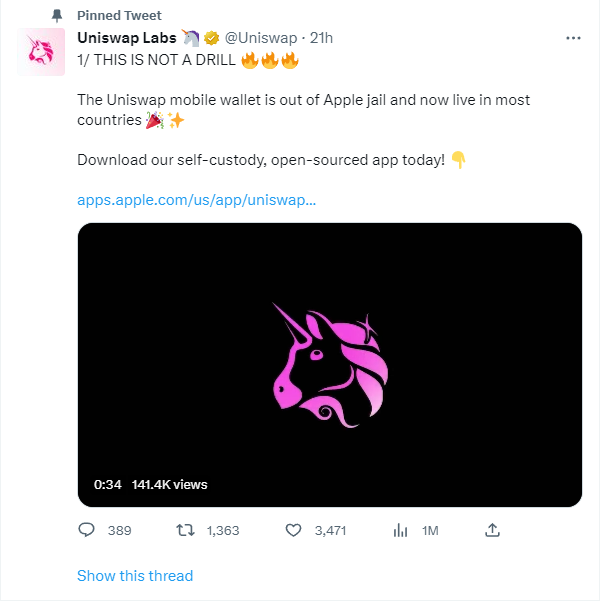 The new Uniswap mobile wallet will allow users to purchase cryptocurrency at a competitive 2.55% fiat on-ramp fee and swap funds on popular DeFi platforms such as Polygon, Arbitrum, and Optimism.
Additionally, the wallet features in-app token price and NFT data, enabling users to favorite tokens and wallet addresses to monitor their trading activity.
The creators of the app believe that these features will encourage more users to use DeFi wallets and take custody of their own cryptocurrency, which traditionally has had a higher barrier to entry than centralized modes of buying and storing crypto.
Early-access TestFlight users can now download the app through the iOS App Store, and Apple has approved the Uniswap mobile wallet in several countries, with more countries to follow.
However, it is not yet clear which countries have received approval, and it is uncertain if and when the mobile wallet will be available on Google Play.
The floor price of the Bored Ape Yacht Club has decreased to its lowest point in five months due to a well-known investor selling their holdings
According to data from Cryptowatch, the Bored Ape Yacht Club (BAYC) collection has recently experienced a decline in floor price, reaching a low of 55.59 ether (ETH) – the lowest point in five months.
This drop in non-fungible token (NFT) prices was caused by a prominent investor known as "franklinisbored" selling a significant portion of their BAYC NFT holdings.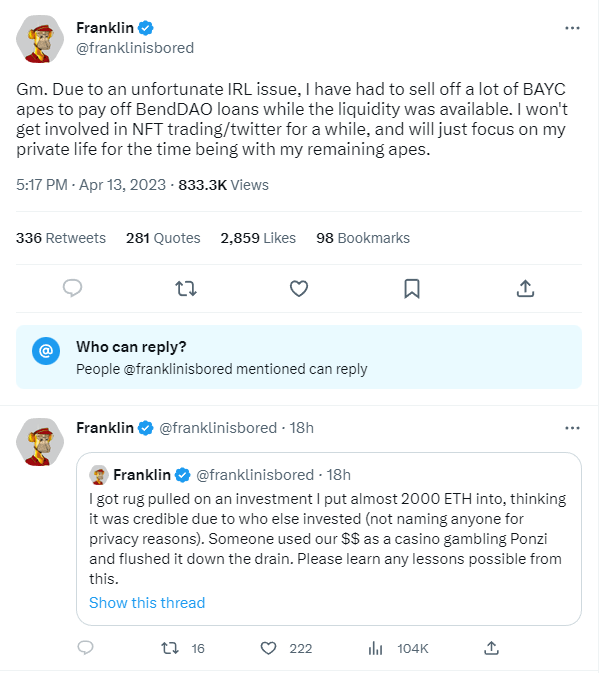 The investor reportedly sold at least 27 BAYC NFTs, resulting in a total of 1439.5828 ETH ($2.8 million) in liquidation.
The investor cited personal financial issues as the reason for the sale, stating that they needed to pay off a loan from BendDAO.
franklinisbored also revealed that they had been a victim of a rug pull, losing almost 2,000 ETH due to a fraudulent investment that appeared credible.
According to transactions recorded on Etherscan, franklinisbored's explanation appears to be valid, as multiple transfers were made from their wallet to BendDAO.