Bitcoin's value drops below $30,000 as the US dollar gains strength and first-quarter earnings show mixed results
Bitcoin's (BTC) ascent above $30,000 has temporarily halted.
The leading cryptocurrency, with the highest market capitalization, is presently trading at approximately $29,900, marking a decline of 2.6% in the past 24 hours.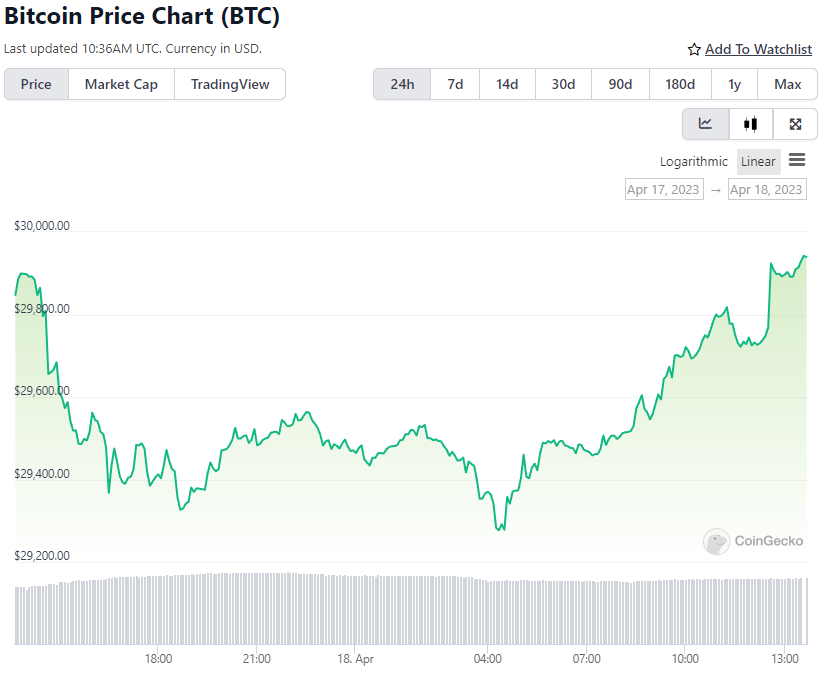 On Sunday, Bitcoin's value started to decline and hit a low of $29,292 before experiencing a minor rebound.
Following mildly optimistic inflation data last week, investors pushed the price of Bitcoin over $30,000 for the first time since last June.
According to Coinglass data, traders who wagered on price shifts have liquidated over $32 million worth of BTC long positions since Sunday evening, compared to only $1 million of BTC short positions. These types of long squeezes usually lead to lower prices.
Riyad Carey, a research analyst at crypto data firm Kaiko, suggested that several macroeconomic factors, such as the U.S. dollar surge on Monday and a mixed bag of Q1 earnings, may have caused Bitcoin's price to drop.
The Securities and Exchange Commission (SEC) has filed a lawsuit against Bittrex, a cryptocurrency exchange, alleging that it has broken federal laws
The Securities and Exchange Commission (SEC) has accused Bittrex, a cryptocurrency exchange, and its former CEO Bill Shihara, of violating federal statutes by operating as a national securities exchange, broker, and clearing agency simultaneously.
The SEC claims that Bittrex provided all three services and should have registered accordingly.
The regulator further alleges that Bittrex collaborated with cryptocurrency issuers to modify their offering materials, including removing statements about price predictions and expectations of profit, which the SEC would investigate.
The SEC's lawsuit against Bittrex aims to send a message to other non-compliant intermediaries in the crypto market.
Bittrex announced last month that it would exit the US by the end of April due to the current regulatory and economic environment.
The SEC had issued a Wells Notice to Bittrex in March, according to the exchange's general counsel.
The SEC alleges that several cryptocurrencies, including OMG, ALGO, DASH, TKN, IHT, and NGC, are securities.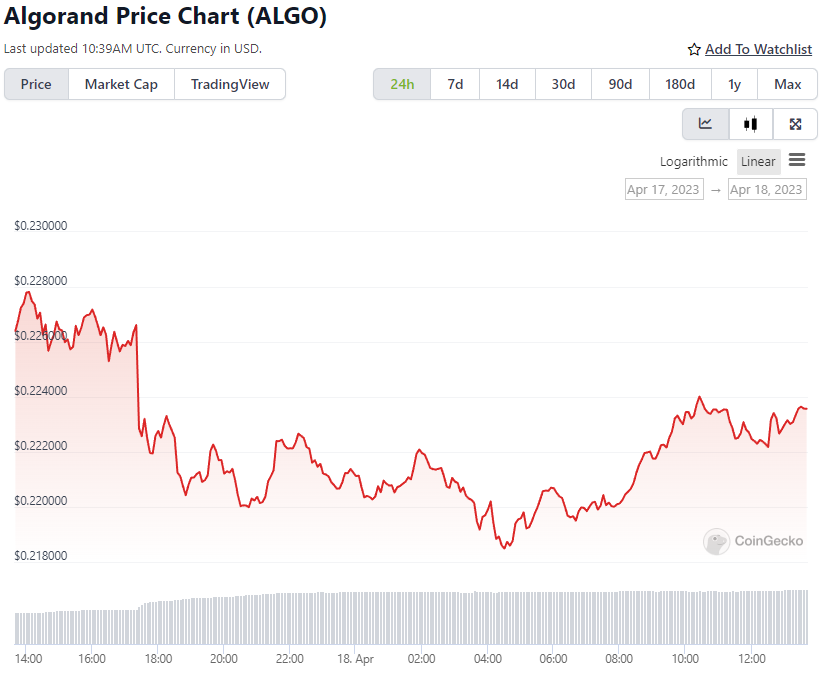 Bittrex has denied the SEC's allegations and accused the regulator of refusing to identify the tokens it considers securities.
After Shapella fails to dampen risk appetite, more than 1 million Ether has been withdrawn
On Sunday night, Ether (ETH) withdrawals exceeded 1 million tokens, despite the fact that prices had reached an 11-month high, which dashed hopes that the recently implemented Shapella upgrade would have a bearish effect on Ethereum's native token, as some had feared.
According to data from the Beacon Chain tracker, these tokens were withdrawn from nearly 477,805 transactions that are occurring every few seconds.
Shapella, which is a combination of Shanghai and Capella, two major upgrades to the Ethereum network that occurred simultaneously on April 12, now allows investors to withdraw their staked ether on the Ethereum blockchain at will.
Previously, users were unable to withdraw staked ether.
Some analysts had speculated that the event could be bearish for ether prices. A small group of the crypto market believed it could be a "sell the news" event, and JP Morgan predicted selling from staked ether balances belonging to "troubled entities."
Elsewhere, Bank of America stated that fundamental issues for the broader Ethereum network still existed, which offset bullish momentum from Shapella.
However, selling has been minimal so far, with users either restaking the withdrawn ether or sending it to exchanges to take advantage of other market opportunities instead of liquidating it for U.S. dollars or stablecoins.
According to data from on-chain tool Lookonchain, over 19,000 ether from just three wallets were withdrawn and quickly restaked back on Ethereum, most likely to test if the feature worked smoothly.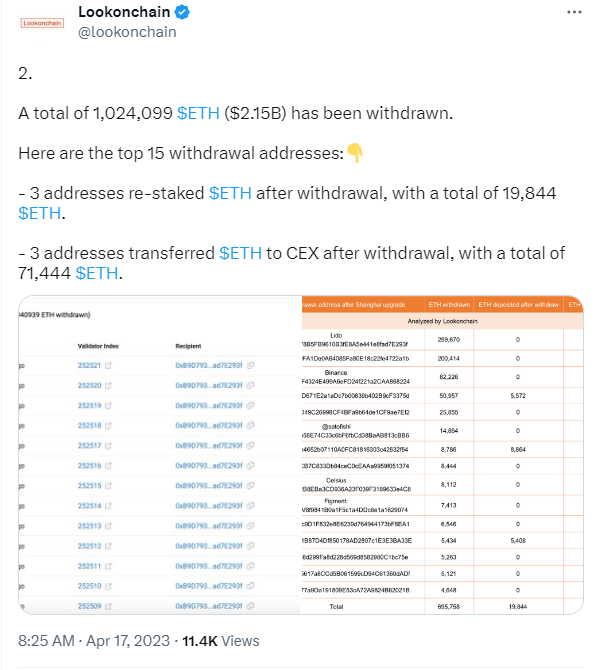 Another group of wallets withdrew and restaked over 34,000 ether, valued at over $72 million at current prices.
On .Swoosh, Nike will be launching its inaugural digital sneaker collection
Nike, the global sportswear brand, will be launching its inaugural non-fungible token (NFT) sneaker collection on its newly launched .Swoosh platform.
The digital sneaker, named Our Force 1 (OF1), is a variation on the brand's famous Air Force 1 design.
From April 18, Nike will commence airdropping "posters" to specific .Swoosh users, granting them early access to the sale on May 8. On May 10, the entire .Swoosh community will have the chance to purchase the virtual sneakers from its marketplace.
The collection will offer two digital boxes – the "Classic Remix" and the "New Wave" box – each box type featuring different designs, including a co-created design by four Nike fans in January. The price of each box is set at $19.82, commemorating the year when the Air Force 1 sneaker was originally released. Holders of the OF1 boxes will have the opportunity to open them at a later time.
According to Nike, each NFT will be accompanied by a corresponding 3D file, which holders can use to "express themselves in new ways." Additionally, the brand intends to introduce more extensive utility in the future, such as "exclusive physical products or experiences."