The TORN token of Tornado Cash experiences a 10% increase following the submission of a proposal by the attacker to reverse the attack
Following a recent attack on the decentralized autonomous organization's (DAO) governance state, a proposal has been submitted by a wallet address associated with the attacker, leading to a 10% increase in the value of the Tornado Cash token (TORN).
In the Tornado Cash community forum, user Tornadosaurus-Hex reported that the attacker has presented a new proposal to restore the governance state.
There is a high likelihood that the attacker will execute the proposal.
Additionally, the attacker is reverting the TORN tokens they obtained, which granted them a significant share of the governance votes, back to zero.
Considering the attacker's substantial holdings of TORN governance tokens, it appears probable that the proposal will pass when the voting concludes on May 26.
However, the exact timing of the action remains unclear.
Once the proposal is approved, the malicious code integrated into the protocol, enabling the attacker to steal voting power from others, will be eliminated.
Consequently, governance control of Tornado Cash's DAO will be returned to token holders.
CoinGecko data indicates that the TORN token experienced an increase of up to 10% before stabilizing.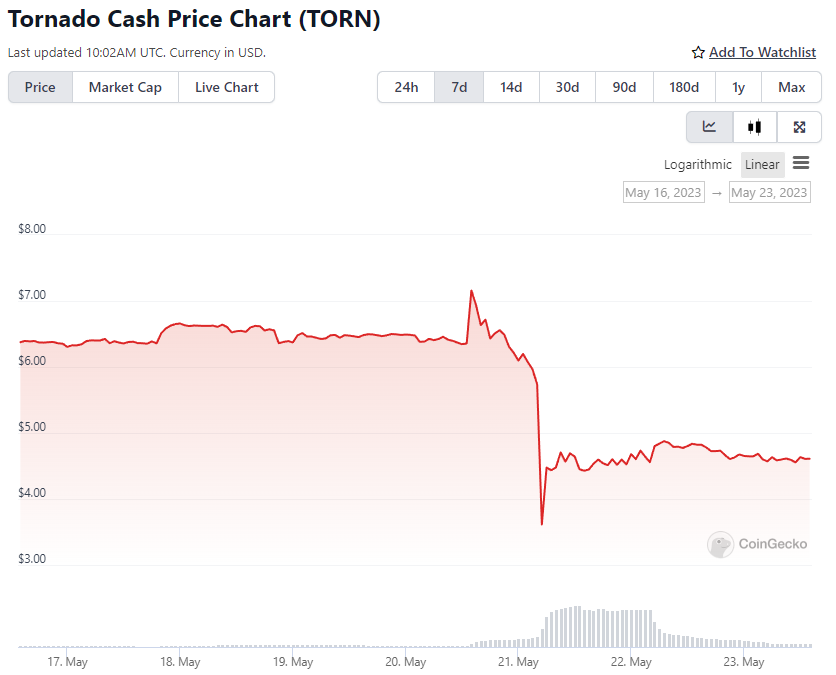 However, 0xdeadf4ce, an active member of the TORN community, cautioned that this could be a deliberate attempt to lower the token's price to accumulate more at a discounted rate.
Tornadosaurus-Hex emphasized the significance of the proposal, despite the lack of choice in the matter.
Gemini reports that the $630 million payment from DCG, the parent company of Genesis, was not made
Digital Currency Group (DCG) failed to make a $630 million payment owed to Genesis last week.
Gemini CEO Cameron Winklevoss has issued a threat of legal action against DCG CEO Barry Silbert and DCG regarding the repayment of a $900 million loan.
This follows Genesis, an entity of DCG, filing for Chapter 11 bankruptcy amid allegations of commingling funds and ongoing disputes over loan repayments.
The U.S. Securities and Exchange Commission (SEC) has accused both companies of selling unregistered securities through their Earn program.
Both Genesis and CoinDesk are owned by DCG.
Gemini and DCG are currently in discussions.
However, if no agreement is reached, Gemini and other parties are proposing an alternative reorganization plan with Genesis that does not require DCG's approval, as stated in an update on Gemini's website.
The decision will partly depend on whether the parties believe DCG will engage in good-faith negotiations for a mutually acceptable deal.
A spokesperson from DCG said that they are actively engaged with the various stakeholders in the Genesis Capital restructuring process during the 30-day mediation period entered into by all parties on May 1.
Gemini co-founder Cameron Winklevoss has publicly accused DCG CEO Barry Silbert of using delaying tactics in bad faith.
Meanwhile, Gemini is preparing to file a claim seeking the return of over $1.1 billion in digital assets from Genesis on behalf of its 200,000 Earn users.
Recently, Genesis requested an extension from the Bankruptcy Court of the Southern District of New York to file a Chapter 11 plan and gather acceptances.
If approved, they will have until August 27 to submit a plan, and Gemini will have until October 26 to accept it.
According to court documents filed in January, Genesis has debts totaling over $3.5 billion to its top 50 creditors, including Gemini, Cumberland, Mirana, MoonAlpha Finance, and VanEck's New Finance Income Fund.
Malaysia declares that Huobi Global, a cryptocurrency exchange, lacks registration and must halt its operations
Huobi Global, the cryptocurrency exchange, has been instructed by the Securities Commission Malaysia (SC) to cease its operations in the country immediately.
This includes disabling its website and mobile applications due to its failure to register as a digital asset exchange.
The SC's directive, announced on Monday, also prohibits Huobi Global from circulating, publishing, or sending advertisements to Malaysian investors.
Operating a digital asset exchange without proper registration from the SC as a Recognised Market Operator is a violation of the Capital Markets and Services Act.
CEO Leon Li has been mandated by the regulator to ensure compliance with the instructions, and Malaysian investors who utilize Huobi Global are strongly advised to cease trading on the platform, withdraw their funds, and close their accounts.
STEPN, the Move-to-Earn Web3 app, has incorporated Apple Pay to facilitate in-game transactions
The move-to-earn game STEPN, operating on Web3, is incorporating Apple Pay as a fiat onramp for in-app purchases, aiming to enhance accessibility.
By integrating Apple Pay, users can link their credit cards to make transactions for acquiring non-fungible token (NFT) sneakers essential for gameplay.
This integration eliminates the need to connect a crypto wallet, which can be a deterrent for new players.
According to Shiti Manghani, the Chief Operating Officer of STEPN, the addition of a fiat onramp like Apple Pay, tailored to iOS users, will facilitate the onboarding of the next 100 million users to Web3.
STEPN claims to be the first blockchain gaming app to secure integration with Apple Pay. Manghani expressed the significance of this achievement, stating that prominent platforms like Apple offer exposure to larger audiences.
The goal is to diversify and showcase both the app and the benefits of Web3 to a broader audience beyond the Web3 community.
Data from Dune Analytics reveals that while STEPN rapidly gained over 700,000 monthly active users in May 2022, the number has declined to approximately 31,000.

Jerry Huang, the co-founder of Find Satoshi Labs (FSL), the company behind STEPN, emphasized that utilizing a combination of Web2 and Web3 technologies helps onboard more users into the ecosystem.
In July 2022, STEPN reported $123 million in Q2 profits before the onset of the crypto winter.
Bitcoin rapidly climbs to the second position in NFT sales within a few months
According to CryptoSlam, a Web3 data platform, Bitcoin-based non-fungible tokens (NFTs) have quickly surged to second place in terms of NFT sales per blockchain.
This achievement is remarkable considering that Bitcoin NFTs were not effective in existence until the introduction of inscriptions on the Bitcoin mainnet in January 2023.

Recent data indicates that Bitcoin NFTs have generated approximately $167 million in sales over the past thirty days, which falls short of Ethereum's impressive figure of nearly $397 million.
However, when compared to the Solana network, NFT sales on Bitcoin are nearly three times higher, with approximately $57 million in sales.
The accelerated rise of Bitcoin's prominence in the NFT space can be attributed to the Ordinals Protocol, which enables the inscription of satoshis (the smallest unit of Bitcoin) with data such as a JPEG.
Despite facing criticism within the Bitcoin community, the adoption of Ordinals-based collections gained momentum when NFT giant Yuga Labs released their own collection in February, generating excitement and capital.
CryptoSlam identifies Bitcoin Frogs as the leading Bitcoin-based NFT collection, having accumulated $6.3 million in sales over the past seven days.

This collection experienced a significant boost last week, with sales amounting to $2.3 million on May 17th.