Bitcoin is staying close to the $29.3K mark following a Binance sell order and the release of UK inflation data
After a significant sell order on Binance and the release of hot inflation data in the UK, Bitcoin (BTC) experienced a 3% drop in the past 24 hours, hovering at around $29,300 on Wednesday. This occurred just a day after BTC surpassed the $30,000 mark and then fell below it, reaching a low of $29,045.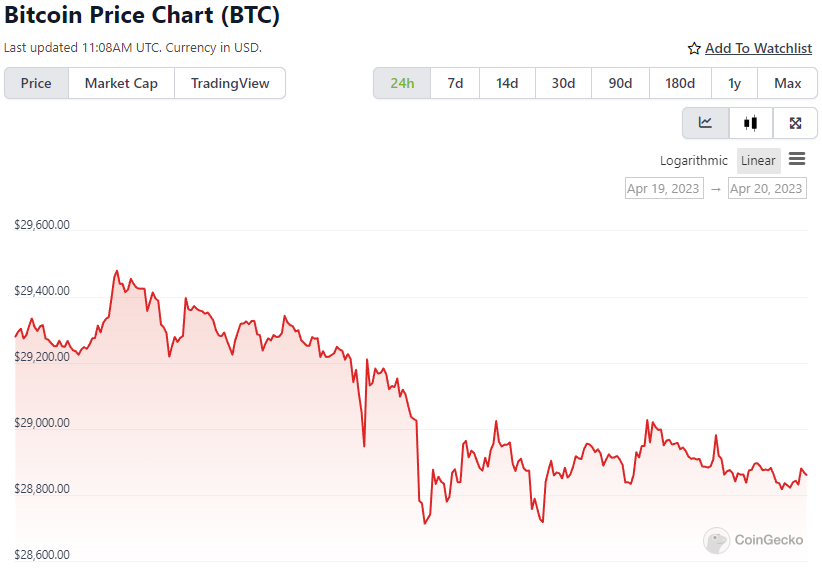 The majority of BTC liquidated positions were long, according to data from futures and trading platform Coinglass, which surprised traders who were anticipating a price increase.
Ether (ETH) also followed a similar trend, with its value dropping below $2,000 for the first time in almost a week.
As of Tuesday, it was trading at around $1,981, down over 4%.
During the first quarter, Tesla did not make any changes to its Bitcoin holdings
In its earnings release on Wednesday, Tesla (TSLA) disclosed that it did not purchase or sell any bitcoin during the first quarter of 2023.
The company's digital asset holdings were valued at $184 million at the end of the quarter, which was unchanged from the previous quarter.
Despite the increase in Bitcoin's value from $16,500 to about $28,500 during the quarter, Tesla did not recognize any gains due to current accounting regulations.
Additionally, the company maintained the same amount of bitcoin it held for the third consecutive quarter.
For the first quarter, Tesla's adjusted earnings per share (EPS) was 85 cents, which matched the consensus analyst estimate according to FactSet.
However, its revenue of $23.33 billion fell short of the expected $23.6 billion.
As a result, shares declined 4.2% in after-hours trading.
Yoz Labs secures funding of $3.5M to develop a notification system for Web3
Yoz Labs, a platform that provides Web3 notifications, has raised $3.5 million in funding from several investors including Collab+Currency, Coinbase Ventures, Dapper Labs, Form Capital, North Island, Mike Krieger and Naval Ravikant.
Electric Capital, an early-stage venture firm, led the funding round.
Yoz Labs aims to create scalable messaging channels that allow developers to send immediate on-chain notifications directly to users.
The platform intends to simplify user notification by offering a "low-to-no code interface," which only needs a smart contract to begin, according to the company's announcement.
During a heated congressional hearing, SEC Chair Gensler refused to comment on whether Ether should be classified as a security
In a lengthy hearing that lasted almost five hours, Gary Gensler, the Chair of the U.S. Securities and Exchange Commission (SEC), declined to confirm whether ether (ETH), the second-largest cryptocurrency by market capitalization, should be classified as a security.
Gensler faced numerous questions during the hearing about various issues, including proposed regulations, disclosure requirements related to climate change and audit trails, and how his agency was handling crypto companies wanting to operate in the U.S.
The hearing before the House Financial Services Committee was Gensler's first appearance since the current Congress took over and his first in over a year.
One of the most controversial moments in the hearing occurred early on when Gensler was asked whether he considered ether to be a security.
However, Gensler did not give a direct answer, instead stating that it depended on the law and the facts of the situation.
Congressman McHenry had referenced several differing viewpoints on ether's classification, including the 2018 statement from the then-Director of SEC Corporation Finance Bill Hinman, the recent assertion by the Commodity Futures Trading Commission Chair that ether is a commodity, and the New York State Attorney General's recent court filing asserting that ether is a security.
According to reports, Soulja Boy has been actively promoting fraudulent NFT projects
ZachXBT, an anonymous online investigator, has revealed that rapper-turned-crypto-enthusiast Soulja Boy has endorsed numerous cryptocurrency coins and NFT projects, some of which turned out to be fraudulent.
Soulja Boy, best known for his 2007 hit "Crank That," has recently developed an interest in cryptocurrencies and non-fungible tokens, releasing a 3D NFT collection earlier this month and boasting about bitcoin gains in his 2018 track "Bitcoin."
According to ZachXBT's research, Soulja Boy tweeted about various crypto projects and NFTs 73 times since March 2021, including promoting Tron (TRX) and BitTorrent (BTT) without disclosing compensation, for which he and other celebrities were charged by the U.S. Securities and Exchange Commission in March.
Additionally, ZachXBT cites promotions of the now-defunct token RAPDOGE in 2021 and the scam token SaferMars.
These promotions are estimated to have earned Soulja Boy over $730,000 from his millions of followers on social media.
Sotheby's is holding an auction for rare NFTs that were seized from the collection of 3AC
Sotheby's, an auction house, is getting ready to auction off an extensive assortment of non-fungible tokens (NFTs) that were confiscated from the bankrupt cryptocurrency hedge fund Three Arrows Capital (3AC).
In February, Teneo, the liquidator for 3AC, announced that it would be selling a large collection of NFTs, which were expected to be worth millions, to recover some of the losses.
Sotheby's revealed in a press release on Wednesday that it would be conducting a multi-part sale featuring NFTs from the Grails collection, which was created as part of 3AC's asset portfolio mainly in 2021.
According to Sotheby's, the Grails collection contains "some of the most significant digital artworks ever assembled."
This unprecedented collection will be sold in various sales formats, including private sales and auctions, across many locations globally, each showcasing some of the most coveted and sought-after items.
Some of the highlights of this impressive portfolio include rare generative art pieces, such as Dmitri Cherniak's Ringers #879, Snowfro's Chromie Squiggle #1780, Tyler Hobbs' Fidenza #216, Larva Labs' Zombie CryptoPunk #6649, and Autoglyph #187.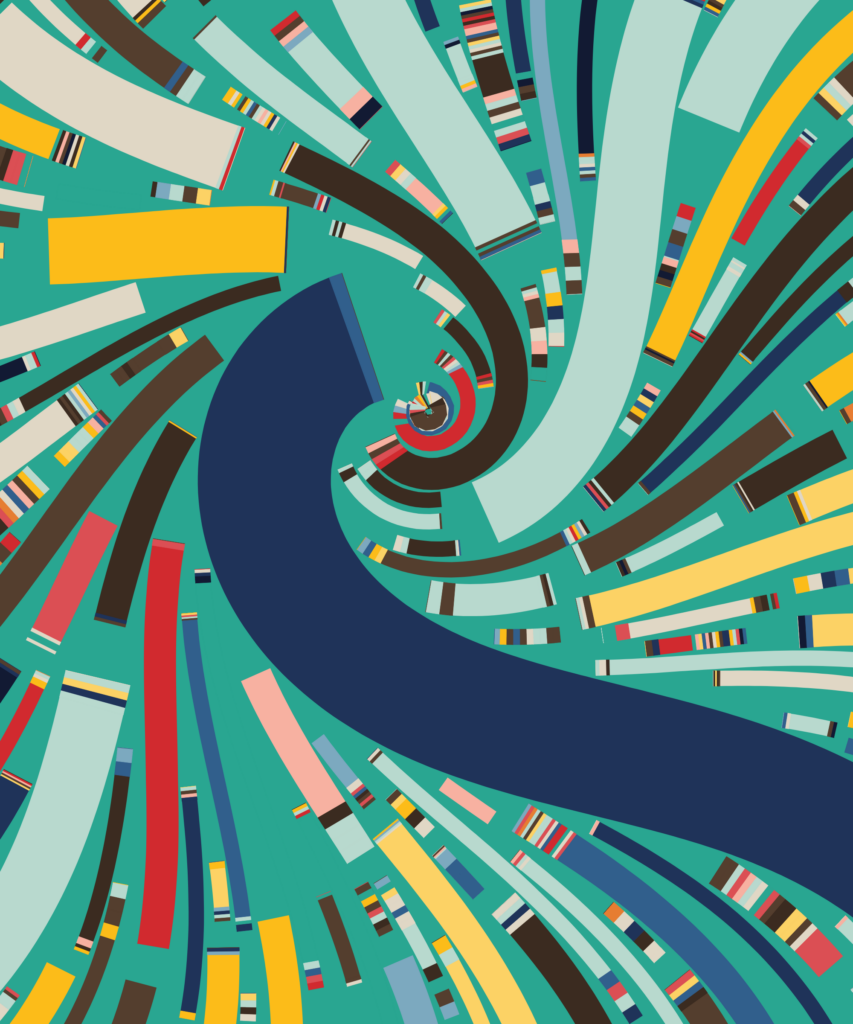 The first sales from the collection are scheduled to occur during Sotheby's marquee sale week in May in New York.