Matcha, the DEX aggregator, has been updated with the latest version by 0x
Exchange infrastructure provider 0x has unveiled the latest version of Matcha, its decentralized exchange (DEX) aggregator, with a range of features designed to enhance the trading experience for users.
One notable addition is the introduction of "Matcha Auto," a new transaction mode that significantly improves the likelihood of successful transactions being included in the immediate next block while reducing the occurrence of failed trades.
Moreover, Matcha has witnessed a substantial increase in its DEX liquidity sources, which have surged by 47%.
Additionally, the platform has expanded its token index from 11,000 to an impressive 3.7 million tokens.
One of the key advantages of using a DEX aggregator like Matcha is its ability to compile and compare crypto asset prices from multiple decentralized exchanges.
By scanning different markets, Matcha enables users to discover the best prices for their trades.
Co-founder Will Warren highlighted that Matcha employs intelligent strategies to split trades across various markets, ensuring optimal prices for users.
According to data from the 0x Protocol Explorer, Matcha has attracted around 16,900 users and facilitated 60,310 trades in the past 30 days.
The total trading volume during this period has reached nearly $529 million, with an average trade size of $8,760.
Warren emphasized that as the crypto space becomes increasingly complex with numerous tokens, blockchain networks, and decentralized exchanges, the role of aggregation and multichain platforms like Matcha will continue to grow in value for users.
Starting in the upcoming month, Japan will be implementing stricter laws against crypto-related money laundering
According to Kyodo News, Japan will enforce more stringent anti-money laundering measures, including the adoption of the "travel rule" recommended by the Financial Action Task Force (FATF), starting from June 1.
This decision comes after the FATF identified Japan's current anti-money laundering efforts as inadequate.
The travel rule, proposed by the FATF in 2019, aims to combat money laundering and terrorist financing through cryptocurrencies.
By June 2022, the FATF urged member nations to introduce legislation for the travel rule promptly.
Recently, the Group of Seven (G-7) expressed support for the FATF's initiative to accelerate the global implementation of the travel rule, which mandates the exchange of information on cryptocurrency fund transfers between financial institutions.
Japan, currently holding the G-7 presidency, seeks to align itself with these international standards.
Since 2021, Japan's crypto industry has been contending with the travel rule, with the Financial Services Agency (FSA) urging virtual asset service providers to implement it.
In April 2022, the Japan Virtual Currency Exchange Association (JVCEA) introduced self-regulatory rules in response.
Furthermore, in October of the previous year, Japan's government approved a cabinet decision to amend existing laws to combat cryptocurrency-related money laundering, aligning with FATF guidelines.
Terra's Do Kwon was denied bail by Montenegro High Court in the case involving a fake passport
According to a Bloomberg report on Wednesday, the Montenegro High Court has invalidated a previous ruling by a lower court to grant bail to Do Kwon, the co-founder of Terraform Labs, who is currently facing charges related to his alleged attempt to travel with falsified documents.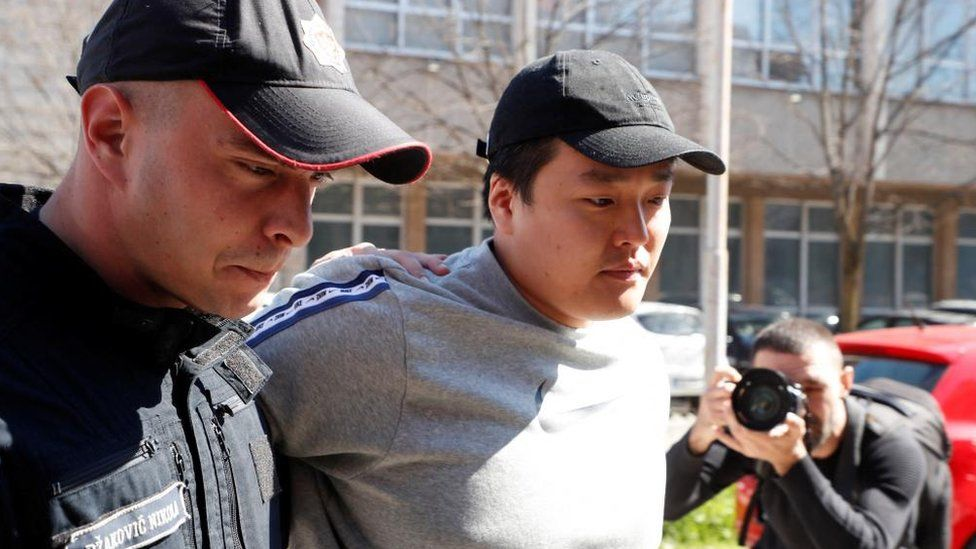 The initial decision to release Kwon and his fellow defendant, Terra executive Han Chang-joon, on supervised bail with a payment of 400,000 euros ($435,000) each was approved by the Basic Court in the capital city of Podgorica in early May.
However, the prosecution promptly appealed against this decision, leading the Podgorica High Court to overturn the ruling made by the basic court.
The United States and South Korea have requested Kwon's extradition from Montenegrin authorities to face criminal charges stemming from the collapse of Terraform Labs in May of the previous year.
The lower court will now need to consider the decision of the higher court, as confirmed by a spokesperson for the court in response to Bloomberg's inquiry.
Unciphered, a crypto security company asserts that they have the capability to physically breach the security of the Trezor T Wallet
According to Unciphered, a cybersecurity firm specializing in recovering lost or stolen cryptocurrency, they have discovered a way to hack into the Trezor T hardware wallet once it's in their physical possession.
They claim to have used an "unpatchable" hardware vulnerability with the STM32 chip that allows them to dump the embedded flash and one-time programmable (OTP) data" to hack into a Trezor T wallet and retrieve the seed phrase and pin.
Unciphered has previously hacked the EthereumWallet and recovered locked-up crypto, and they claim to "support every wallet in the market" on their website.
Trezor responded by stating that their team didn't have enough details about the specific attack Unciphered performed to respond fully but noted that it looked like an "RDP downgrade attack," which was publicly flagged as a risk three years ago.
Trezor added that their wallets can be protected by a strong passphrase, which adds another layer of security that renders an RDP downgrade useless.
Unciphered wouldn't confirm or deny whether their hack of the Trezor T would be considered an RDP downgrade, citing current engagements and non-disclosure agreements.
They also pointed out that Trezor is aware of the vulnerability in the STM32 chip but has not done anything to fix it since the initial effort to publicize the risk.
Trezor responded by saying that they have taken significant steps to resolve the issue with the development of the world's first auditable and transparent secure element through sister company Tropic Square.
Hardware wallets have come under scrutiny recently following the backlash against rival maker Ledger's proposed optional "recovery option," which upset some users who believed the device to be fully isolated.
The latest revelations show that hardware wallets aren't foolproof, and even longtime crypto security experts recommend them as a safer place to store assets than keeping them on exchanges.
Brave launched a new feature that allows NFT-based access to video calls
Brave, a browser that supports Web3, is now incorporating non-fungible tokens (NFTs) into its user experience by introducing token-gated video calls to its existing Brave Talk video service.
This feature allows hosts to manage access to calls using NFTs and POAPS.
The company claims that this feature could be used by NFT projects to communicate with other holders.
The calls are available to all Brave Talk users with a premium subscription on any browser with any Web3 wallet.
However, the feature is currently only compatible with Ethereum-based NFTs.
In the future, hosts will be able to grant access based on specific token balances or previous ownership of a token or send crypto to participants.
NFTs can also be used by hosts to configure avatars, assign moderator permissions, and more.
When combined with Brave's browser-native Brave Wallet, these tools create the first-ever fully integrated Web3 live event platform, combining browser, wallet, and video.
Brave, a privacy-focused browser and search engine, has exceeded 50 million monthly active users.
In February, the company introduced support for Solana dApps on iOS and Android versions of Brave.