In March, DEXs experienced their highest trading volume in 10 months, amidst a crackdown by the United States
As regulatory pressure on centralized exchanges like Kraken, Coinbase, and Binance intensified in March, decentralized exchanges (DEXs) saw a significant surge in trading volume for cryptocurrencies.
According to data from DefiLlama, DEXs recorded a total volume of $133.1 billion in March, marking the third consecutive monthly increase and the highest monthly total since May.

This uptick in DEX trading volume may be attributed to the ongoing regulatory crackdown on centralized exchanges, as the U.S. Securities and Exchange Commission went after Kraken for its staking service, while Coinbase received a Wells Notice.
Meanwhile, the Commodity Futures Trading Commission accused Binance of violating U.S. law.
The stablecoin crisis, where USDC lost its peg to the dollar following the collapse of Silicon Valley Bank in mid-March, may have also contributed to the rise in DEX trading volume.
As per research by Kaiko, there was a serious lack of liquidity for stablecoin pairs on centralized exchanges during the depeg, leading an "unprecedented number" of USDC holders to turn to DEXs for liquidity.
This trend has led some to speculate that crypto traders may shift to DEXs in the wake of the regulatory pressure on centralized exchanges.
MicroStrategy has made another purchase of 1,045 Bitcoin for $29.3 million
According to a filing with the Securities and Exchange Commission, MicroStrategy, headed by Michael Saylor, has acquired an additional 1,045 bitcoin (BTC) at an average price of $28,016, between March 23 and April 4, for a total of $29.3 million.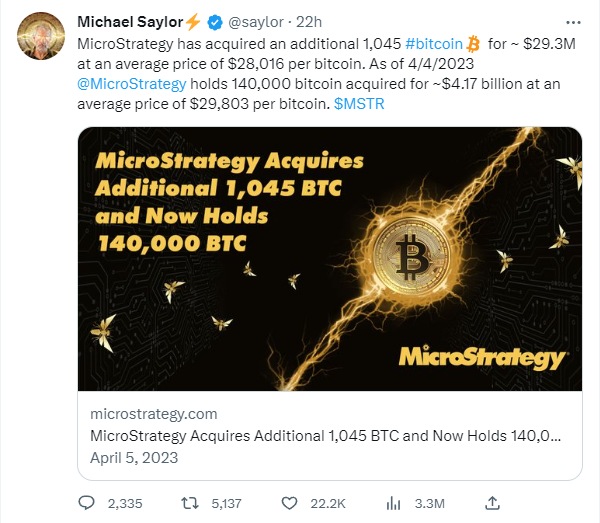 With this latest purchase, the company now holds approximately 140,000 bitcoin, valued at around $4 billion based on the current price of $28,500.
The average purchase price of these holdings is $29,803.
In late March, MicroStrategy had disclosed purchasing 6,455 bitcoin for $161 million in the preceding five weeks and also announced that it had paid off its remaining $205 million loan from the now-defunct Silvergate Bank.
The creator of Ethereum's ERC-20 token standard is developing a new blockchain called "LUKSO" for individuals involved in creative pursuits
Fabian Vogelsteller, a self-taught German programmer and Ethereum veteran who is known for creating the ERC-20 token standard is launching a new blockchain project called LUKSO.

Vogelsteller aims to cater to the needs of the creative, fashion-oriented, and art-world types with LUKSO, which he says is designed for the "creative economy".
The blockchain is a layer 1 solution that will compete with Ethereum, which currently dominates the smart-contracts blockchain with a market capitalization of $217 billion.
Vogelsteller believes that the explosion of NFTs and the growing interest in metaverses demonstrate the potential for creative applications on the blockchain, but he thinks that existing systems are not yet mature or user-friendly enough.