For the fourth consecutive month, the trading volume of Uniswap has surpassed Coinbase
Uniswap, a decentralized exchange (DEX) based on the Ethereum blockchain, has surpassed Coinbase, a centralized exchange, in trading volume for the fourth consecutive month, according to data from CCData.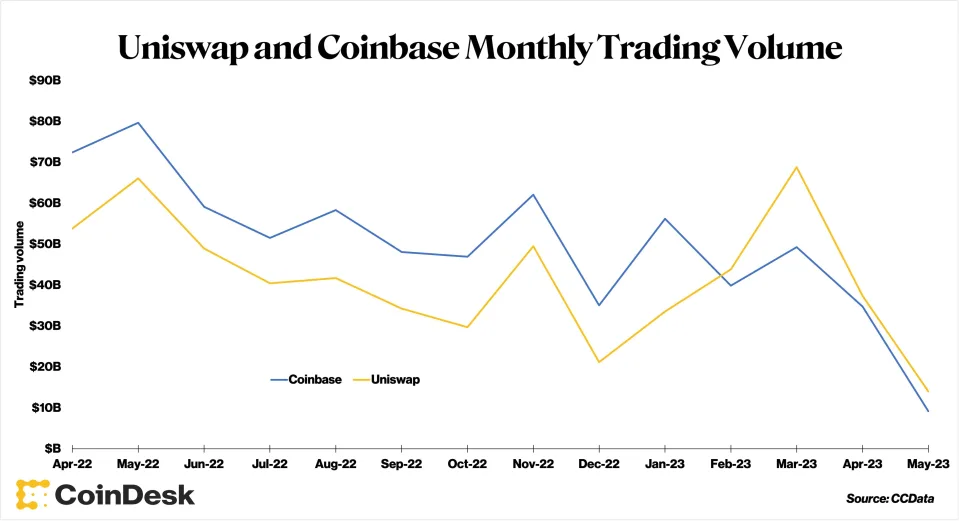 In April, Uniswap's trading volume was $37 billion, while Coinbase saw $34 billion in trading volume.
Uniswap's trading volume first exceeded Coinbase's in February, and despite a decline in both exchanges' volumes since then, Uniswap has maintained its lead.
The increase in Uniswap's trading volume in March was largely due to the depeg of USDC and other stablecoins, which prompted traders to turn to on-chain trading venues.
Additionally, the recovery of Bitcoin and Ether prices since the beginning of the year has boosted market sentiment and renewed interest in decentralized finance applications.
As the largest DEX, Uniswap was well-positioned to take advantage of decreased market liquidity and increased regulatory focus on centralized exchanges, according to Jacob Joseph, a research analyst at CCData.
A new CEO has been appointed for the Twitter
On Thursday, Elon Musk announced on Twitter that a new CEO has been appointed for the social media platform often regarded as the town square of the cryptocurrency industry.
Although Musk did not disclose the new CEO's name, he mentioned that she will assume the position in about six weeks.
According to The Wall Street Journal, discussions are underway with Linda Yaccarino, a former NBC Universal executive, to take over the job.
Musk himself, who purchased Twitter last year, conducted a poll and promised to find someone else to serve as CEO, will transition to the roles of executive chairman and chief technology officer at Twitter.
Although Twitter is not a cryptocurrency company, it is frequently used as a platform for industry-related announcements and discussions, also known as Crypto Twitter, making Musk's decision noteworthy for digital-asset enthusiasts.
Coinbase has admitted that it made an error in its newsletter's coverage of Pepecoin
Paul Grewal, the chief legal officer of Coinbase (COIN), has issued an apology for a recent company newsletter that discussed the Pepecoin frenzy.
The newsletter suggested that the Pepe the Frog meme, which the red-hot PEPE token is based on, has been used in racist ways on the internet.
In a tweet posted on Thursday morning, Grewal acknowledged that the company had made a mistake and said, "We screwed up and we are sorry."
The newsletter had been published on Wednesday but was later edited to remove the controversial section.
However, the damage had been done, with the #deletecoinbase hashtag trending on Twitter early Thursday morning, as critics accused the company of insensitivity and lack of research.
As BRC20-based tokens like SHIB and PEPE become more popular, developers are now deploying Uniswap contracts on Bitcoin
Developers have recently deployed Uniswap's smart contracts on the Bitcoin network to take advantage of the growing popularity of BRC-20 tokens and develop the DeFi ecosystem.
This new protocol, called Trustless Market, has already attracted more than 2,000 users and generated daily volumes of $500,000.
Liquidity providers can earn a 2% cut on all swaps conducted on the network.
While most of the tokens traded on the platform are meme coins, it is still considered a promising start to expanding the use of Bitcoin beyond just a currency.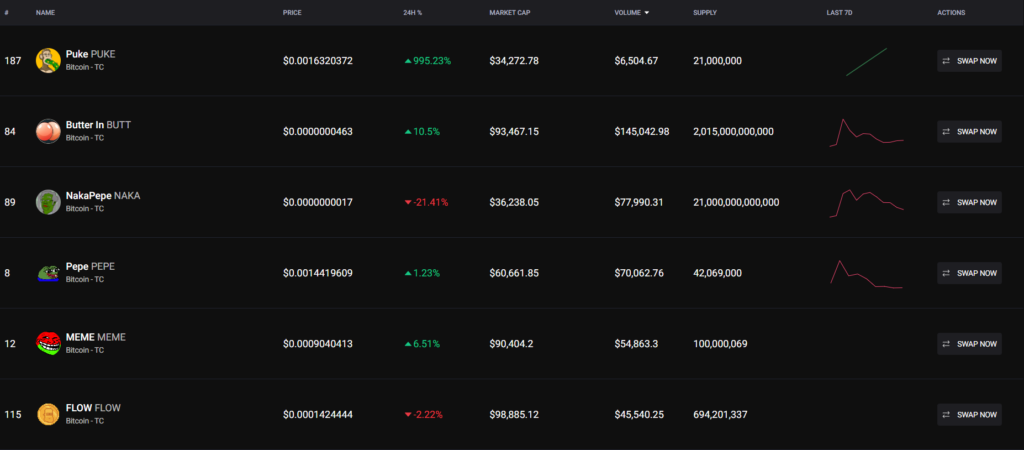 The developers behind Trustless Market are focused on making Bitcoin as generalized as possible and enabling its use in a wide range of applications.
They have already explored using Bitcoin for art and AI, and now DeFi is the next area they are looking to add.
So far, the usage of Bitcoin in DeFi has been limited to tokenized representations on other chains like Ethereum or Solana.
However, recent introductions of the "Bitcoin Recent for Comment" token standards have enabled developers to issue tokens and DeFi applications natively on Bitcoin.
According to OrdSpace, which tracks BRC-20 data, there are now over 11,000 tokens issued on Bitcoin available on the open market with a cumulative market capitalization of $500 million.
Ordi tokens are the most valued BRC-20 tokens, with a market capitalization of $400 million and 8,300 unique Ordi token holders.
Pepe tokens and Bitcoin's own Shiba Inu iteration are the third and fourth-largest BRC-20 issuances, respectively.
Trustless Market is one of the few protocols seeking to develop the Bitcoin ecosystem, and this move has caused transactional fees to spike.
Bitcoin users paid over $17.42 million in fees over the past 24 hours, marking the second-highest day ever in gas fees.

However, developers like @punk3700 believe that this is a stepping stone to fuel adoption in the long term and that the use cases and utilities will come first, with infrastructure upgrades following.